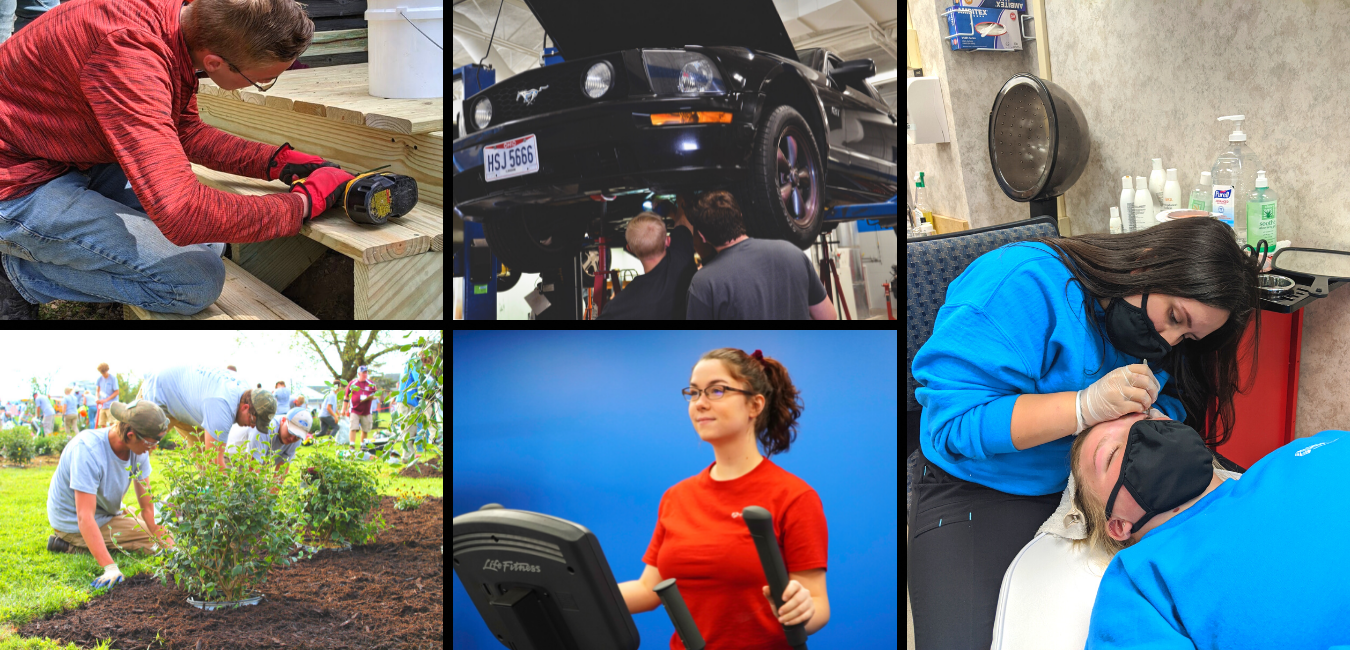 Senior-only programs are specifically for incoming high school seniors looking to earn an industry credential.
Automotive (ASE Certifications) – Show employers and customers your experience by earning four Automotive Service Excellence (ASE) certifications in service technology, brakes, suspension and steering, as well as maintenance and light repair. An ASE Certification brings confidence and peace of mind for auto service managers and customers, knowing you have the skills and knowledge to do the job right.
Construction (NCCER Certification) – Construction is more than a job. It is a career with high demand, high salaries and high potential with over 180,000 jobs available in Ohio. NCCER is recognized by the construction industry as the training, assessment, certification and career development standard.
Esthetician License (Spa Technologies) – Estheticians are state-licensed skin care professionals who perform treatments that promote the health and beauty of the skin, including procedures like waxing and peels, while also educating clients on cleansing, diet, and the application of skin-care products at-home.
Equipment Operations (NCCER Certification) – Earn your forklift, skid steer, and excavator certificates in one-year program. Over 180,000 construction jobs are available in Ohio and equipment operators are crucial in the construction and landscape industries. NCCER is recognized by the construction industry as the training, assessment, certification and career development standard.
Nail Tech License (Spa Technologies) – Nail technicians provide nail services to customers at salons, spas and barber shops, while some technicians operate their own business. Nail techs clean, file, trim, polish and repair fingernails and toenails. They discuss treatments with clients, such as applying artificial nails or moisturizing hands and feet, and sell additional services and products.
Ohio Certified Nursery Technician (Horticulture) – The Ohio Certified Nursery Technician (OCNT) program has three specializations, Garden Center, Grower, and Landscape. Landscape contractors are relied on to provide horticultural advice as well as landscape construction techniques. Students will learn plant identification, plant usage, plant health, soils, turfgrass management, use of pesticides, construction techniques, design, sales and more. Professional Certification is one of the most important steps an individual can take to demonstrate knowledge and stand out as examples of excellence in the Green Industry.
Phlebotomy – Phlebotomy is when someone uses a needle to take blood from a vein, usually in your arm. It's an important tool for diagnosing many medical conditions. You can start a fast-paced, detail-oriented career in phlebotomy where you spend time caring for patients, helping them receive the right care for their needs. These jobs offer strong job security, good benefits and good pay.
Physical Therapy Aide – Physical therapist aides support physical therapists and physical therapist assistants by preparing equipment including cleaning and sanitizing treatment areas. They also maintain treatment room, transport patients, and document progress.
STNA – State tested nurse's aides are vital to the healthcare industry and jobs are expected to increase 20% between 2010 and 2020, adding significant value to your resume for completing this program. Students learn personal care skills, mental health and social service needs, infection control, basic restorative services, safety and emergency procedures, resident rights, and basic nursing skills. The STNA certificate sets you on the pathway to a career or an associate degree in medical assisting, multi-competency health, or nursing.