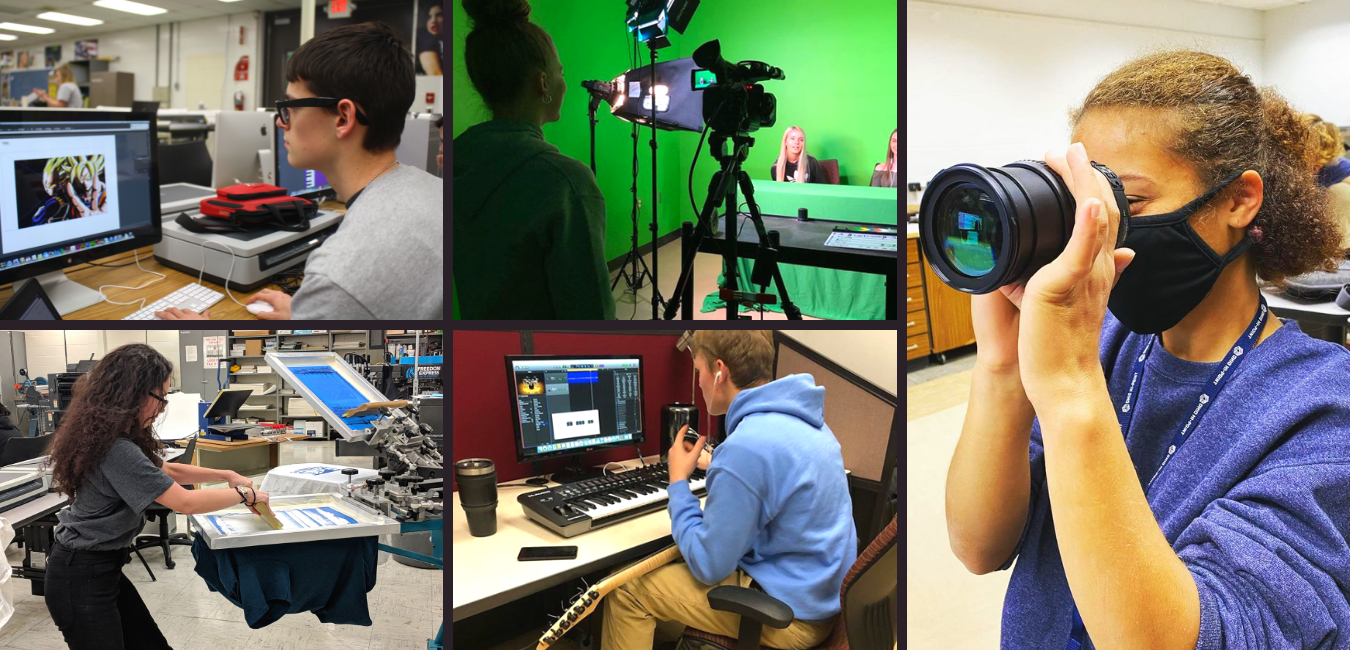 GRAPHIC AND MEDIA ARTS ACADEMY
Students work closely with their teachers to explore their creativity in graphic design and digital marketing while learning how to design for print, web, interactive, and social media. Picking which courses best fit their creative style and college and career goals, students tackle hands-on projects for community businesses and organizations while building a strong portfolio for themselves. Students may design and screen print t-shirts, create augmented reality pieces, and sharpen their photography, video and audio production, and web design skills using the latest technology and equipment in the industry.
PROGRAM HIGHLIGHTS
Use 4K camcorders, mirrorless and DSLR cameras, professional audio equipment and MacBooks, print presses to create visual pieces.

Become proficient in Adobe Photoshop, Adobe Illustrator, Adobe Premiere, Adobe After Effects, Adobe Audition, and Adobe Animate.

Learn the traditional print process and digital workflows as you complete customer service projects.

Dive into production theory and application, while working with

emerging trends in digital design.

Work on website designs.

Understand the marketing mix (The 4 Ps)

Learn more about social media marketing.
YOUR COURSES
Year One
Visual Design Primer

Multimedia and Image Management Techniques
Year Two
Graphic Design and Printing Pathway
Digital Image Editing

Visual Distribution

Arts and Communication Capstone
Multimedia Marketing Pathway
Animation

Multimedia Capstone
Whatever your pathway, whether it's employment, enrollment, or enlistment, the Graphic and Media Arts Academy will provide you the opportunities to reach your goals through valued industry certifications, exposure to our college partners, and taking advantage of our Work-Based Learning program. Several of our graduates go on to become graphic designers, producers, photographers, and business owners.
CERTIFICATIONS
10-hour OSHA

PrintED

Adobe Illustrator CS6

Adobe InDesign CS6

Adobe Photoshop CC

Adobe Certified Associate Video Communication

Adobe Certified Associate Visual Communication

Microsoft Office Specialist PowerPoint
COLLEGE PARTNERS
Columbus State Community College

Clark State College

Rhodes State Community College

The Modern College of Design

Wright State University