EDIT MAIN
"The art of teaching is the art of assisting discovery." - Mark Van Doren
We are incredibly thankful for the dedicated and talented staff at Ohio Hi-Point. Our teachers challenge our students and celebrate the "eureka!" moments. They push our students to unlock their potential and provide guidance when the day gets tough. Our teachers believe in a hands-on education and cultivate the critical thinking skills to breakdown problems and create solutions. In essence, our teachers - the best teachers - are those who show you where to look, but don't tell you what to see.
We asked our students to share their appreciation for our staff, and here's what they had to say.
Dr. Robinson has helped me to find my path on becoming a better person. - Anica Erickson
Ms. Curley is the only teacher at Hi-Point I see but I've learned so many things from her that I enjoy knowing, some of the animals she had I probably would have never touched in a lifetime if it weren't for her. - McKinsey
Ms. Elkins does an amazing job at being a teacher and is a wonderful person. - Madyson Rugh
Mrs. DeLong is outgoing and willing to help during any of her other math classes and she always makes sure we get good grades she looks at the work and helps us correct the problems we make.
Aside from being an amazing teacher, Mr. Gilbert goes above and beyond in caring for his students. I've never met a teacher who supported students the way he has done for many others. Mr. Gilbert shows what Ohio Hi Point is all about: kindness and understanding. He has inspired me in more ways than he'll ever know. Thank you, Mr. Gilbert. - Molly Downey
Mrs. Stahl is a great teacher always explains everything very well then will also come back and explain it person-to-person and break everything down. Also, she always cares how your life is going and I thank her for her service.
No matter what, Mrs. Harlan does not give up on you and she always believes in you and she pushes you to be the best you can be every single day. - Aaryonna Dick
Mr. Alig has been an amazing lab teacher. He helps you with your problems shows you what mistake you did and helps you fix it so you know what to do right. He cares about his students. He is a great listener and gives really good advice. He also shows you what you're going to experience in the real world. - Alicia Smith
As a female, I always wondered about what my career could be. I thought about computer hardware but it always seemed like I'd get stepped on and overlooked, but Mr. Kouse has definitely made an impact on that. He makes his students who want something thrive on what they excel at. He makes the female students equal to all the male students and feel like we can be in the engineering field too. He is an outstanding mentor and definitely someone the students can count on. - Kenna Hone
Mrs. Walls has helped me to figure out the best future for me and she has always been there for when I needed it the most. - Donna Cupps
Mrs. Sizemore has always been such an encouraging teacher. Anytime I have been struggling and insisted that I was unable to able to do something, she told me I could and helped me. - Autumn Dyer
Chef Beale has taught me a lot over the course of this year. She has proven to me that I belong in her program. I have hopefully earned her respect and the respect of my fellow chefs. We have had our differences but in the end I will always love my first chef. - Skye Scott
Mrs. Young has been the most understanding teacher I have ever had. She has also made a point to make sure that her students are ok and it is something I really appreciate. - Kayla Musson
If Mr. Conley would see me upset he wouldn't ask what was wrong, but instead he would make me laugh and make my day 100 times better! - Riane Payne
Mrs. Priest has been so kind. She always takes her own time to help other students. She is always trying to bring out the best in everyone and keep a positive attitude. She is making the world a better place and I have learned a lot from her. She cares about her students and is always there to talk to even if it is not school related. She is one of the best teachers I have ever had. - Scott Wilkinson
Mr. Barger always supported my projects. He took time to help me understand things I was struggling with, and gave me opportunities for leadership and further development. I could always tell he trusted, respected, and cared about me. We were never just students, we are treated as equals.
Mrs. Shellenberger is a great, patient, understanding, and hardworking teacher. - Violet Quintanilla
Mr. Wilson helps me and all of my class mates (in diesel tech) when we are struggling with something. - Adam W.
Mr. Lacher is a very amazing lab instructor, he always finds a way to make his class very interesting and fun, while also being very educational. There has never been a dull moment in our lab and I always looked forward every single morning to being able to participate and be a Multimedia Marketing student. Lacher has helped me learn so much of what I want to do for my profession, and has helped me to grow so much, and I can't thank him enough. Lacher never fails to make his classes the best there is. - Gavin Amspaugh
Mr. Marsteller is always allowing us to learn on our own. He values the growth that comes from the mistakes we make and allows us to make those on our own to allow us to learn from those. He is very patient with us (which must be very hard on some days.) He is always pushing us to do our best, teaching us all of the tricks of the trade (pun intended), helping us when we need it. He is an exemplary teacher. - Josiah Strahm
Ms. Schneider makes the classroom a fun, but also challenging environment when teaching Algebra ll. The way she explains material makes it seem so simple even though at times it wasn't. I knew what I was doing through every step leading me up to the end of the course. She's actually a teacher who cares, she always offers help and roams around the classroom just to make sure she answers everyone's questions. When I entered her classroom I didn't feel gloomy or like I didn't want to do it, I felt extremely excited to learn whenever I came into the classroom. Thank you for teaching us, it is greatly appreciated! - Amory Armstrong
Mr. Carpenter has not only shown understanding and patience while teaching, but has also showed compassion with his students and has showed major support for us all. He helps all students understand but is able to see the talent within each student. Mr. Carpenter has made this year a wonderful year not only by teaching and helping us learn but by showing support throughout. - Reese Collins
Mrs. Smith is very understanding and helps a lot of the kids out with their work. She always have a positive attitude in the classroom. - Katie Dolan
Ms. DeLong was always there when I needed her no matter what it was...she was a teacher that had the best personality she never failed to make me smile she always forever be one of my absolute favorite teachers. I'm glad I got to spend most of my senior year getting to get to know her as a person! - Alyssa Anderson
Mr. Mejia is very helpful to all the students and enjoys talking to us and working with us so we can get the best education possible.
As students, many teachers and educators will pass through our lives without remembrance. Yet, a special one will leave a last impression. Mrs. Deel, THANK YOU for being one of the special educators who will live on forever in the minds and hearts of students who lives you have touched. You have touched my mind and heart in so many ways but you have showed me I am capable of great things to come. Thank you! - Gage Adkins
Mrs. Oder was always nice and I loved seeing her everyday. I could talk about anything to her. - Steven Baer
Mr. Gilbert has been a very nice and supporting teacher during my time here at Ohio Hi-Point.
I would like to recognize Mr. Gilbert because of all the guidance and help he has provided me with getting through the pandemic. He has provided me with reassurance in my goals, he has helped me realize that even though I don't feel like I'm doing a lot that I am doing a ton. Mr. Gilbert has been my (virtual) shoulder to cry on and has never stopped believing in me. - Kristyn Bushon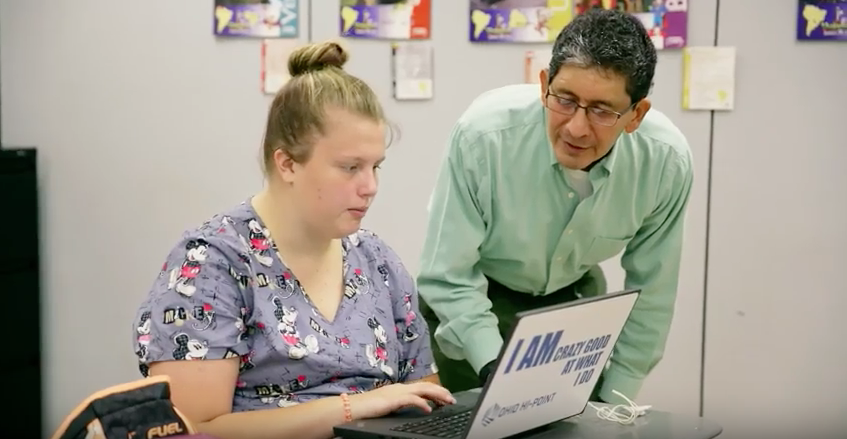 Mr. Gilbert has always helped me in every academic problems that I have, he gave me tips and websites where I can get ACT questions to practice/English vocabulary and he has not only helped me for just English but he put in a lot of effort to help me with other classes too. I would like to recognize this educator because he is a great teacher in helping students with all their problems and helps them solve it. I would also say that he was a great influencer to me since I used to slack off in class during work or my homework's. Mr. Gilbert has been giving me tips on how to balance my work and gave me the courage to be who I am right now. Thank you Mr. Gilbert for every help you have been providing everyone! - Dharrshine Murugesan
Mr. Lacher is inspiring and he has high expectations so we are always pushed to do our best. - Hannah Westfall
Mr. Wilson never gave up on me, and he knew I could do this. I am very thankful. - Brandon Segovia
Mrs. Walls has taught me so many life lessons. She is teaching not only me but all of her students to stay on the right path. She is always there when you need someone to talk to. - Zoe Taulbee
Mrs. Priest always brightens up my day when I see her and I can always talk to her when something was on my mind or if I was upset about something. - Michaela Shaw
Mr. Tullis, Mr. Corwin, Mr. Case, and Mr. Swaney have helped me with so much! From things like personal issues to just letting me randomly rant. I appreciate you SO MUCH! Thank you!
Mr. Robinson knew I was going through a hard time, and he knew some of the things I was going through. He told me if I ever needed someone to talk to that he was here for me. I was falling behind in his class because of what I was going through and he helped me get my grades back up. I really appreciated his help this year. I think he is an amazing teacher and an amazing person. - Sara Beddies
Mr. Alig has help me so much of learning on working on automobiles and learning new things about cars. Some of the skills I've learned from Mr. Alig I used on my own cars and trucks. - Austin Alexander
Ms. Shellenberger has taught me to take care of the little things so the big things will take care of themselves. She has also taught me how to always see the positives in any situation. She has become a second mother to me, and I could not be more grateful to have had her as a teacher this year.
I have always struggled with math but this year I did a full 180 all because of Ms. DeLong. She took time and made sure that I understood the problem and helped me with anything I needed. I am so grateful that I had a teacher like her. She is truly a blessing.
Ms. Heitmeyer has made a very great impact on my life! She actually cares about her students, and shows us love. She's accepts us with open arms and treats us like her own! - Octavia Robertson
Chef Beale always makes sure her students are well. She makes you smile when you are down and she pushes you to work hard, and to try and challenge yourself. - Abby Erwin
Mrs. Smith has helped me so much in the 2 years I was at OHP. When I needed help with school work to just needing someone to talk to because things got to hard. Mrs. Smith is a very helpful and wonderful teacher! - Donna Merritt
Mr. Carpenter gave me lots of opportunities to find out what I was really interested in. I couldn't thank him enough for being so patient and understanding! - Sierra Swan
Ms. Curley pushed us not to give up, we're here for a reason.- Alexis Close
I would like to recognize Mr. Conley for his will power to help educate the student body and for understanding our needs and wants. For making class fun and eventful everyday. For all the laughs and giggles. If I was having a bad day I always knew it would get better by 3rd period because of Mr. Conley. - Chasta Caudill
I couldn't have asked for a cooler teacher or a better support system. Mrs. Harlan has always kept it real with me and even though we've faced a lot of challenges this year, she never gave up on us. She hasn't only taught me about cosmetology, she's taught me life lessons that I will cherish forever. We always joke about her being the coach and how intimidating she can be.. but she just wants to see us succeed after we graduate. She always pushes us, even when we doubt ourselves. She has a heart of gold and the greatest sense of humor. Through all of the obstacles this school year, we still laughed, smiled, and put on some of the best Cut-A-Thons ever! She has inspired me in so many ways and I can't thank her enough for everything she has done. I'll make you proud, Harlan! - Ashlyn
Mrs. Walls cares a lot about her students she would always be going to the extra mile for them and for the culinary lab making sure we got all of our stuff done for FCCLA competitions and such. - Brit'tani Brown
Mr. Kouse is a very supportive educator as well as a skilled engineer. He keeps all of our interests and future plans in mind to help guide us through the class in our own unique ways. Not only does he have a lot of wisdom to share, but he always manages to keep learning fun and engaging. His class environment is a safe space for us to grow and discover ourselves. We are all thankful for his hand in governing our futures.
Mrs. Young is an outstanding person. Whenever I would have a bad morning and have my breakdowns in the morning walking into her class she would always sit down and talk to me she would always see if I was okay. Even when she teaches English she helped me on other classes to like Chemistry. She would put the students before herself and whatever made the students more comfortable she was okay with. She would let us explore ourselves mentally in her classroom and during discussion time she would want to hear from everyone and if you weren't very comfortable with something like presenting in front of a whole bunch of people she would have you come in when there's no students around. She is an outstanding teacher and I hope I have her next year. - Kiley Fogt
Dr. Robinson has helped me through decisions for my career path. He helped me through so much when I was stressed out about school or if I couldn't comprehend a subject he always helped me in any way possible, even if it was to get a tutor from another student or try to get in contact with another teacher to help me. He made an impact on my learning and the way of his teaching, it helped me better understand government, and I overall loved his class and all my classmates. He made our class closer, and get to know each other rather than only communicating with our friends, he split us up and made up get to know each other. He had made our class fun, and got everyone involved, and helped us with communication skills and learning to talk to different people, and making new friends. - Malina Kreglow
I would like to recognize Mr. Barger, Ms. Preston, & Mrs. Priest who played a huge part in my success at Ohio Hi-Point. You have shown me that through hard work, constant communication, and consistency I can do just about anything I put my mind to. I want to thank you for all that you have done for me. - Wesley T. Foor
Mr. Conley takes the time to speak with students and regularly have class discussions. He always takes us seriously and helps us the best he can. - Morgan Moughler
Mrs. Harlan is like another mom to us! She always has a smile on her face even on days that aren't going so good for her. She pushes you to always be your best and she has never given up on us! - Andrea Hudson
Mr. Gilbert is very understanding and helpful at all times. He always has a answer for your questions and he is very respectful and you can always tell that he cares a lot. He's one of the most respectful and caring teacher I've ever had. - Makayla
Mrs. Young and I may have bumped heads at times but she never gave up hope on me on getting the work done right.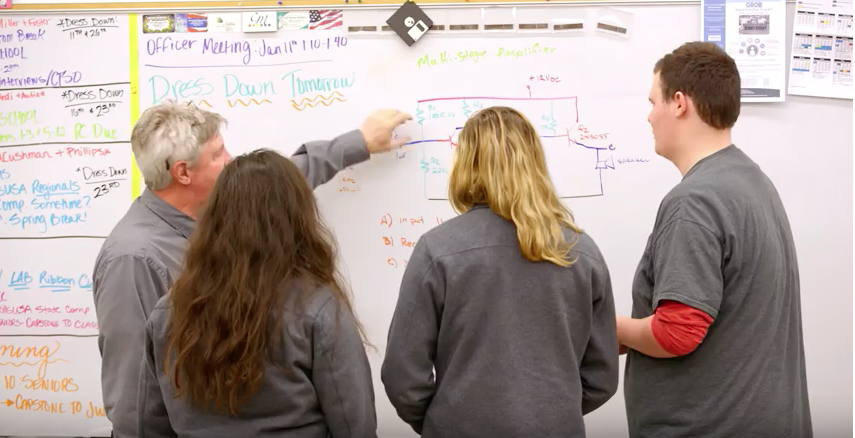 Mr. Barger has been one of my biggest support systems and role models since I stepped foot into Ohio Hi-Point. He holds his students to accountable, helping us grow as hard-working, determined individuals ready to work in the growing welding industry. He is always willing to help when asked, educationally and personally, and encourages us to be unique and creative. He is full of real-world knowledge and is a great example of a person with integrity. Mr. Barger is an amazing mentor and a wonderful representation of what a teacher should be. - Xienna Café
Ms. DeLong made 1st period a blast and fun to learn about math! - Dustin Wilkes
Ms. DeLong has always been there for us students no matter how hard online school has been. She has made sure to help each and every one of us. She helped us by doing class zoom calls or doing one-on-one zoom calls to help those that need extra help understanding. She was always there to help when we need her she has always been an amazing teacher. - Alexis Chapman
Ms. Elkins has taught me things I thought I could never learn. She also tries to help us when she can.
Mrs. Harlan has taught me to come out on top of problems stronger than when I went in. She constantly pushes me to be the best I can be. She challenges me, supports me, and encourages me in my program. She's there to be our teacher, but she's also a great listener and encourager. She's our teacher but also our friend. - Naomi Cook
Mr. Gilbert will do anything to make sure we're doing okay mentally and physically. He understands our hardships and is always there for us when we need someone to talk to. He checks on his students to see how they're doing. He has a special bond with his students and I will miss him dearly. - Alexis Garver
Mrs. Swaney has helped us get everything ready for the future and ready to get out in the real world. - Ashley Pummell
Mr. Lacher has gone out of his way many times to make sure that his students have the knowledge and resources they need to learn and succeed.
Chef Beale has been supportive and in general a good teacher and friend. She loves her students and is so proud of our achievements. - Sydney Johnson
Mr. Alig has helped me through some personal thing I've went through. Also he always makes sure that you know what your doing in lab and never lets anyone feel left behind. - Derrik Daniels
Mr. Conley for makes me excited to learn about Government even though It wasn't my favorite subject coming into my junior year. He makes it so interesting and simple, but all the information is laid out. He doesn't make it difficult. Mr. Conley is very nice, he asks his students how they are doing everyday or at least says hello to them, and I feel like that's important for teachers to do so students feel like they actually care about them and just aren't shoving them to the end of the year. Thank you for taking the time to make material understandable for your students and for being such a kind teacher. - Amory Armstrong
Mr.Gilbert has provided us with peace and comfort during this pandemic. He has helped all of my classmates and I with our school work and making sure we are doing okay in this crazy time. He has been a great role model for all of us this school year. I am thankful to have such great teachers while doing distance learning and helping me great prepared for my next steps in life. - Hanna Logsdon
Ms. Elkins is an amazing teacher! And she made the year of hard working and long days of STNA skills and notes and studying a great time! - Tamaria Newell
Ms. Shellenberger is an amazing teacher and we all love her to pieces!!!
Mrs. Priest has been one of my favorite teachers these last 2 year at Hi-Point. She is the best teacher I have ever had. She makes science class so much fun, and she will tell us stories in class that related to science class. - Faith Moyer
Ms. DeLong made sure I was emotionally okay and that I was having an okay transition back to school. She really impacted my high school experience because she taught me that someone actually cares about me and that means the world. - Makayla Hannahs
Mrs. Harlan is so encouraging to us students and really helped us through this change. She really cares about our success through the cosmetology program and helped us so much along the way! - Andrea Eckstein
Mr. Kouse is a very good teacher. He has made a very good impact on what I am going to do for my future career. - David Bruce
Mr. Gilbert is the NICEST teacher I've ever had. He listens to his students and is the most encouraging teacher I have ever met. He also has very cute dogs.
Mr. Lacher has made quite the impact to my life! He has taught me many things in the field i would like to go into, he's given me personal tips on how to work with my customers while working in my field of choice. He's also been very understanding and has really helped me out during this past year, even though it's been difficult. I'd like to recognize this teacher because he's one of the better teachers I've had! - Jaylen Huston
Chef Beale is always there to help when you need it. She lets you talk when you need to without interrupting you a thousand times. She understands that you have a life and other school work, and she's very helpful. She treats you like an actual human being and not just another student she has to teach. Keep up the good work Chef Beale.
Mr. Alig always puts a smile on everyone's face and gave us a good laugh in lab. He'd go out of his way to help me along with other students on their vehicles if they broke down. Also if I was having a hard time understanding the material in lab he'd sit down and try to explain or show me other ways so I'd understand. - Aleigh Fissel
Ms. Curley helps people out when she can and helped me out finding my career path.
Mr. Gilbert helped me a lot this year with everything, not just his class. He truly made a huge difference in my life and I will always be thankful for him. - Ashlyn Reed
Mrs. DeLong is the one person that I could go to about anything. Not only is she really relatable, she has helped me through things and made me think like an adult. I respect her to the most highest degree, she is one of the ones I'll remain friends with outside of high school. - Skye Scott
Mr. Carrig always put a smile on my face and I really could not thank him enough for everything he has done. He always helps us out when we have questions.
Mr. Krock has never given up on his students no matter how high or low their motivation level might be. He genuinely cares for his students.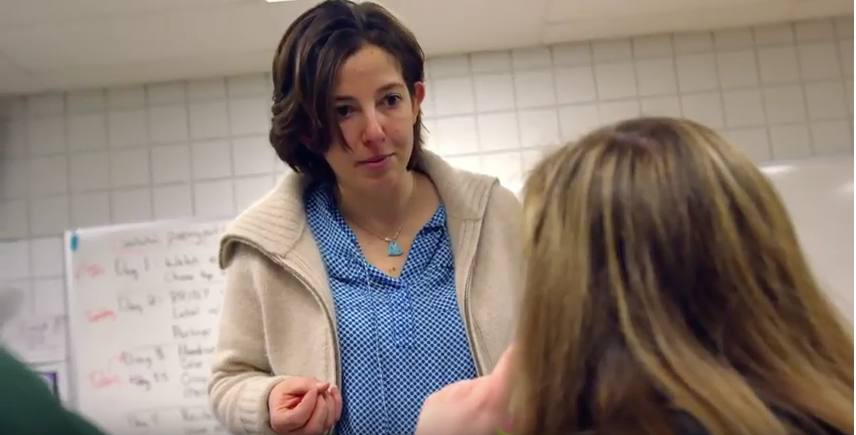 Ms. Simmons pushes you to do your best and achieve what you want, she relates to you on real world issues and she takes the time to get to know her students and understand them also.
Mr. Alig gave many students the jump start in the career they needed. he was there to help students no matter the situation and was always understanding and patient. He is a very intelligent man with great capabilities and he has worked hard to build his reputation and position here at Hi-Point - Tyler Line
Ms. Elkins has taught many things besides medical. She has taught me no matter what happens and no matter the circumstances that life puts you in to never give up and things get better! - Shaylynn Jackson
Ms. Johnson always tries to help her students.
Chef Beale made my joiner year a lot better. She knows what she is doing and she loves doing it. She know what most of us are going though. She helps ever single one of us in the culinary lab help understand the dos and don't in the restaurant. She helps us better understand culinary and for that i appreciate Chef Beale and all the things she does for each and every student out there at HI-Point. - Grace Crumrine
Ms. DeLong always pushed me do to better and always supported me. She is always there for me through tough times and I miss her, she's an amazing teacher! - Zoie Zoldak
Mr. Alig has made sure every student that needs help gets help. He has worked with everyone as a class or one on one and actually cares about students. He is a teacher that recognizes every students individual strengths and encourages everybody to continue to grow. - Melly Shisler
Mr. Hess is an excellent teacher.
Mrs. Young was always there to help me, whether it be with my school work or with emotional problems. She was always understanding and caring. She knew tell-tale signs of when I was upset or angry and always did her best to assist me. - Jeannette
Mrs. Priest made a difference in my school year. She is always happy to teach no matter the circumstances and she is always engaging with her students.
Mr. Gilbert is an absolutely outstanding educator that has made a tremendous impact on not just my education and career, but also my personal life as well. Throughout my two years of attending Ohio Hi-Point he has been such a constant encouragement. My junior year, without even being my teacher, he helped me with my joining of the The National Technical Honors Society, as well as my winning of the OHP 2018-2019 school wide interview contest. Then he did not just stop there. After winning that competition and moving on to compete in the Skills USA regional competition, he coached me in rigorous training to be ready to do my best. Although I did not move on, he made sure to assure me that I was an extremely talented student and that I should not give up in my goals of pubic speaking, writing, and leadership. This encouraged me greatly to sign up for his advanced College Credit Plus Classes held through Clark State. Throughout both semester classes I took with him as my instructor, I never once felt intimidated by him or the work he laid out for me. Every day I entered his class eager to learn something new and push myself to my next best even if it was a little uncomfortable at times. Gilbert does a stellar job of recognizing all of his students hard work no matter what form it may be in. He encourages you to be creative and express yourself while also learning new things and challenging yourself. He makes sure to pay close attention to his students work loads along with mental health, and plans accordingly. Mr. Gilbert is by far the most understanding teacher I have ever had, but he also does not put up with non-sense. He rewards the students that do well, and that constantly makes us want to do better! He makes sure to show us that he himself is a person as well, just like us. He has a life outside of school, he has personal issues he must fight to work on, and he even makes occasional mistakes. It is this type of down-to-earth and humble person that deserves the upmost respect and highest recognition. Thank You:) - Adrian Blanken
Ms. DeLong is great. She is the best teacher I have ever had and her class is so fun. It's never a dull moment in her class. I miss her class and her amazing way of teaching.
Mrs. Harlan is my lab teacher...she always is on top of me making sure I get my work done and always wants the best for us. She pushes us to do our best and would do anything for any student. - Kaylene Baschnagel
Mr. Newland has always been kind to every student he talks to. He has set up all the job fairs and even brought my new employer to one. He has helped so many students start their career still in school. – Gaige Sheeley
Mr. Gilbert is such a wonderful teacher and person in general. He pays attention to his students and makes sure they're recognized. If you're having problems he is incredibly helpful and will work with you through out it all. I'm thankful I got to have him as a teacher. - Sydney Johnson
Mr. Gilbert is the most understanding and kind teacher I have ever had in my school life. - Arlissa Johnson
Mr. Alig has supported me when ever I didn't know what I was doing in lab. He always knows how to make jokes.
Ms. DeLong is one of the best teachers I've ever had in my life. - KJ
Ms. King is always uplifting and understanding.
Mrs. Harlan has always been a great teacher for me. She always makes me feel better in class when I'm having a rough day and she is always motivating me to do my absolute best at everything and without her I don't think I'd be where I am today. - Jasmine Gordon
I used to dread getting up everyday and going to school, and at one point this year I was going to drop Hi-Point all together and finish my senior year online, but Mrs. Heitmeyer made school fun, and she made learning fun, she made me feel noticeable, and taught me that it's okay to have a bad day, but you always have to try to make it a better day, she always makes sure all her kids are okay, she loves us like we're her own, she's pure, kind hearted, and never gives up on her kids, she lets us have fun, but always makes sure our work is done first. She's open with us and honest, she never lets a student go unnoticed. She's the best teacher I've ever had, she cares. - Justice Wyatt
Mr. Gilbert has been keeping up with us students and asking us if and what were having trouble with on an assignment. I've asked him questions on assignments and I've always gotten positive feedback under an hour because of this I've gotten his assignments done faster than the others. - John Jordan
Mr. Alig has taught me very useful skills that I will now be using in the United States Marines. - Nathaniel Schmid
Mr. Carrig has helped me better understand how the graphic design business works and was able to learn more about being an adult thanks to his guidance. - Samuel Carter
Mr. Carpenter encouraged me to do my best and to go above and beyond. He makes sure you understand how to do your tasks. - Bradley Osborn
Mr. Carpenter provided us with everything we needed. We went to our state competition and crushed it! All because of him. Thank you Mr. Carpenter! - Christian Au
Mrs.Walls has pushed me to do my absolute best and has shown me how to never give up on myself even when I feel like things are impossible. She has really taught me a lot this year and has opened my eyes a lot as my future comes closer. - Angela Walter
Ever though she's my mom, Mrs. Shellenberger is one of the most inspiring people I know. She's passionate about what she does. She finds new ways to educate her students. She always puts forth 110% of her energy and time to her class. - Sadie Shellenberger
Mrs Heitmeyer motivated me to pursue my career in the nursing field. Between having a baby and all this corona stuff that's been going on I felt super unmotivated. Not only that but she also motivates me to be on top of my work and always tells me how smart I am and how I can be anything I want to be. She is a awesome person and educator!! - Jasmine Powell
Mrs Simmons is a great educator for many reasons. She always puts a smile on my face and always tells me how smart I am. She has always shown me that she likes me and genuinely cares about her students. She helps me when I don't understand something and motivates me to be on top of my work. - Jasmine Powell