EDIT MAIN
"The art of teaching is the art of assisting discovery." - Mark Van Doren
We are incredibly thankful for the dedicated and talented staff at Ohio Hi-Point. Our teachers challenge our students and celebrate the "eureka!" moments. They push our students to unlock their potential and provide guidance when the day gets tough. Our teachers believe in a hands-on education and cultivate the critical thinking skills to breakdown problems and create solutions. In essence, our teachers - the best teachers - are those who show you where to look, but don't tell you what to see.
We asked our students to share their appreciation for our staff, and here's what they had to say.
Mr. Gilbert makes sure you have everything completed, even in other classes & helps tremendously with anything and everything you need. He truly cares about the wellbeing of his students. - Jadelynn Craig
Mrs. Sizemore always helps me in any subject I need help in and is such a great teacher! - Kerstin Smith
Craig Conley has helped me with not only personal issues but takes time out of his lesson to personally help me or further elaborate on things discussed in lecture. He always starts the class period with a clean slate and a huge smile. – Abbigail Hamilton
Mr. Robinson makes connections with his students and he is always willing to talk to students about anything they need. - Haylee Jordan
Mrs. Walls is a teacher and a friend to all of her students. She welcomes all students with an open heart and is very understanding. – Evinn Holycross
Ms. Johnson is honestly one, if not the, best teacher I have ever had. I use to hate lecture style classes, but she's made hers enjoyable. I love the one-on-one time she has with students and how she tries to help the class whether it's review or work days. - Aly Inskeep
Ms. Curley has made herself a part of my life since before the beginning of my junior year. When I met Ms.Curley I was going through a rough time. In dealing with these issues, Ms.Curley was always considerate and assured me that my opportunities here at Ohio Hi-Point would not be dimmed due to my life at home. From the moment I applied to the Animal Science Lab to today, I have received nothing but love and support at the hands of my instructor. She has shown me the potential I have in this school and in my own personal life. Ms. Curley has made an immense difference in my life and deserves so much recognition for all of what she does for not only me but the entire lab. – Chloe Peters
Mr. Conley let us know how much he cared about our education from day one, and that he was here to help us do more than just pass some tests and get through high school. He works hard to make sure that we're educated about the things we need to know and finds a way to help everyone. He also does an amazing job explaining things to anyone who needs help or has questions. Finally, he also is amazing with working to help kids who need any type of accommodation to work better. He followed through with his word at the beginning of the year and I am grateful for that. - Hannah Louck
Ms. Shellenberger (Ms. S) deserves to be recognized due to her extreme dedication to us students and genuine motivation to see the success of our future goals and dreams. She has not only the most passion in the work place than any other educator I've ever had, but also the most compassion and mercy for those that need the most guidance. I know I can speak on behalf of all the junior cosmetology kids that Ms. S dreams for those of us who can't dream for themselves and does whatever she possibly can to facilitate the dreams of those of us who can. She always goes way above and beyond all of the requirements of her job because a paycheck or position is not what rests on her mind instead, seeing the success of her "kids" is what she considers the ultimate reward. - Adrian Blanken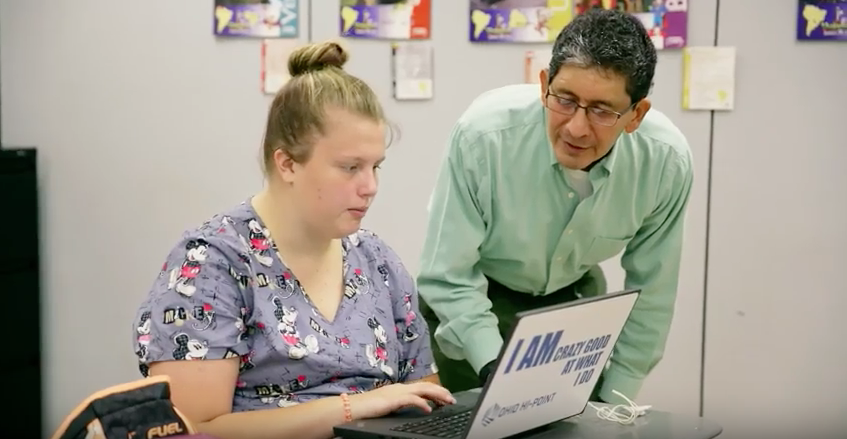 Mr. Lacher works very hard to make sure the students that want to do well are on the right path to where they're going. He's helped me a lot find out what I want to do and has taught me so much in the two years that I've been here. – Shawn Stump
Mr. Marstellar showed me the jobs out there and is always giving me ideas what to do after school. - Dylan
Ms. Schneider manages to make even a math class fun and entertaining. – Justin Rice
Mrs. Curley has really helped me with my studies and finding ways to further my career. – Skylah Plank
Mr. Carpenter has went over and beyond in our lab for us. He has taught us so much and he is always there for you. He's a hard working and a dedicated person who deserves the best. – Joshua Mays
Ms. Stahl is understanding, and takes time to get to know her students. This is the most important step to get kids to have the DESIRE to learn. She has done this for me even as my advisory teacher. – Crissy Todd
Mr. Crawford is always there when you need him.
Mr. Kouse He's a great instructor and helps keep me on track for my future.
Mrs. Smith is probably the best teacher I have had this year. - Ashley Birt
Mr. Lacher is very good at what he does and also amazing at teaching it to others! There's never a dull moment in his class and everyday is always an interesting lab. – Gavin Amspaugh
Mr. Gilbert is all around a good person. He has bestowed wisdom upon me and all of my classmates. Every day in Mr. Gilbert's class is a great day. – Trent Devine
Mr. Barger has the experience and because of this he has many valuable lessons to teach us and many life lessons that we will carry with us into the workforce. – Hunter Long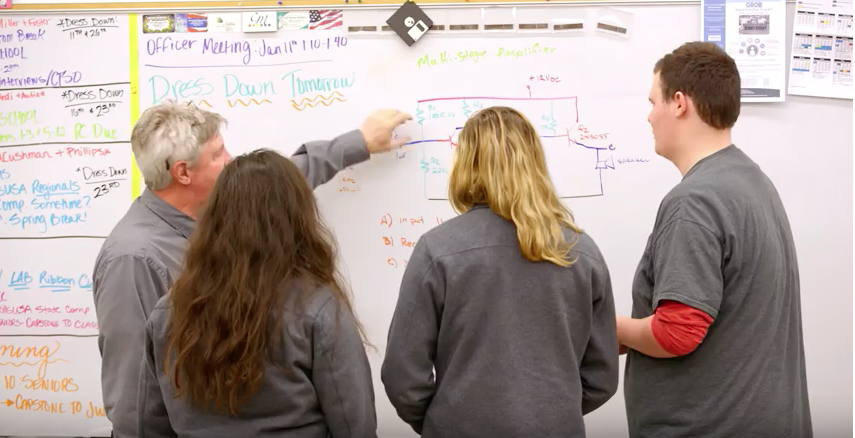 Mr. Wilson is an amazing lab instructor. He is a really nice person and he's good at helping students with parts of a engine and he helps students out when they are upset. He always has a funny story to tell, and he's a hard worker. – Alicia Smith
Ms. Schneider is always willing to help students. She is super sweet and kind and makes class a lot more enjoyable and provides a comfortable learning environment for everyone. - Lily Miele
Dr. Robinson expanded my ideas and ways of thinking. - Charles Hicks
Mr. Gilbert is nice and fair with all of his students. He treats us like we're young adults, and shows us respect. He makes his lessons fun, and we always learn with him. He is a great teacher, and I wouldn't be the student I am today if I hadn't had these two years with him. – Samantha Neeley
Mr. Conley has always believed in me as a student even when I am slacking off and not doing my work. – Caylie Landon
Mr. Lacher taught me that life's not going to be easy and some things people are asked to do might be impossible, but even though it may seem impossible put forth the effort and do the best you can. – Charles (Skyler) Kuch
Mrs. Harlan helped me stay focused on what I want in the future even if I felt like I couldn't move past the bump in the road...she cares so much about her students. – Skybree
Ms. Elkins believed in me more at times when I personally did not and she always pushes me to do my best and to never give up. – Madison Bell
Mrs. Preston is the nicest teacher who helps us finish our work and succeed. – Scott Newland
Mrs. Young not only helped me a lot individually, but she also made sure that everyone was OK mentally, and if they were having a bad day she would do her best to make it better.
Mr. Harman was able to help me through all the subjects I struggled with last year. A lot of teachers are hard to follow and he was able to break it down enough so that I understood. – Cori Grimes
Mrs. Shellenberger (Ms. S) is the most patient and caring person I have ever met. She loves and accepts everyone she meets, and she always greets you with a smile. I could honestly write a book about Ms. S and why she deserves to be recognized. She sees potential in everyone and is so supportive. She doesn't just teach cosmetology, she teaches life lessons that can help anyone. Because of her, I am working on being a better me. She is a beautiful, patient, sweet, intelligent, caring, outgoing, & wise instructor & friend. Like I said, I could go on & on about how wonderful Ms. S is. - Ashlyn Hall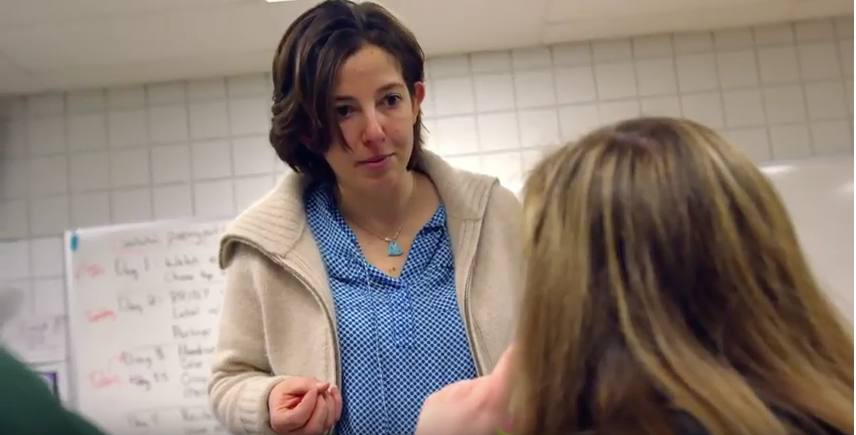 Mrs. Simmons pushes you to do your best and achieve what you want, she relates to you on real world issues and she takes the time to get to know her students and understand them also. She doesn't get angry when you're a little behind in your class, but helps us solve any issues we're having. She is very understanding and an amazing teacher. – Raven Slone
Ms. Schneider is an awesome teacher, probably the best one I've had since 5th grade.
Mr. Newland has always been kind to every student he talks to. He has set up all the job fairs and even brought my new employer to one. He has helped so many students start their career still in school. – Gaige Sheeley
Mr. Alig is definitely a great teacher. He loves to help everyone to make sure they are good and ready to start a new day. He always cracks me up and makes me smile. P.S. THE BEST AUTOMOTIVE TEACHER EVER!!!! – Cortney Floyd
Ms. Patterson is my science teacher and she has been my favorite academic all year! she has also helped me with other classes she has so many cool stories. - Gaige Sheeley
Ms. Elkins is that type of person to think about others before herself! I would like to thank her for putting her students in front of herself. – Madison Boggs
Mr. Conley IS A BEAST!!!!!!! – Mr. Nate Dogg
Mr. Gilbert constantly supports his students and brightens the day of everybody around him. He's made a huge impact on my life and I'm grateful for the semester I had with him. – Paige Couch
Mr. Carpenter knew this is the best place for me to be if I want to have a good job in the landscape industry. – Steven Baer
Mr. Gilbert has a beautiful heart, he goes above and beyond for his students. – Cheyenne Muncy
Mrs. Young has helped me with a lot of things that make me more successful. – Victoria Wohlgamuth
Ms. Heitmeyer taught me everything I know about being an STNA & about patient care. – Jadelynn Craig
Mr. Lacher will put his students and their needs before his own. He will take the time out of his busy schedule and make sure that you are understanding the criteria that is being taught. He has taught me many skills that you will use in the future; communication, people skills, and hard work. – Kiarra Coats
Mr. Kouse has helped me through a lot of difficult situations when it comes to my education. He's helped me realize my potential and has lead me in a direction that will help me get setup easily in my future. – Harley Adkins
Ms. Block listens and cares about what's happening to us outside of this building. - Jane Doe
Mrs. Young works to help everyone and tries to understand what works best for them.
Mrs. Weadock has taken me under her wing since Freshman year and has helped me with every little thing at all times. She has always helped me to shape myself into the best person and has prepared me so much for college. She is very reliable and helps me out with a ton and knows how to answer all of my questions. I think that she deserves this appreciation and I will always appreciate everything she does and continues to do for me. – Bridgette Helmlinger
Mr. Schneider makes sure all her students fully understand the material she's teaching! - Lily Cooksey