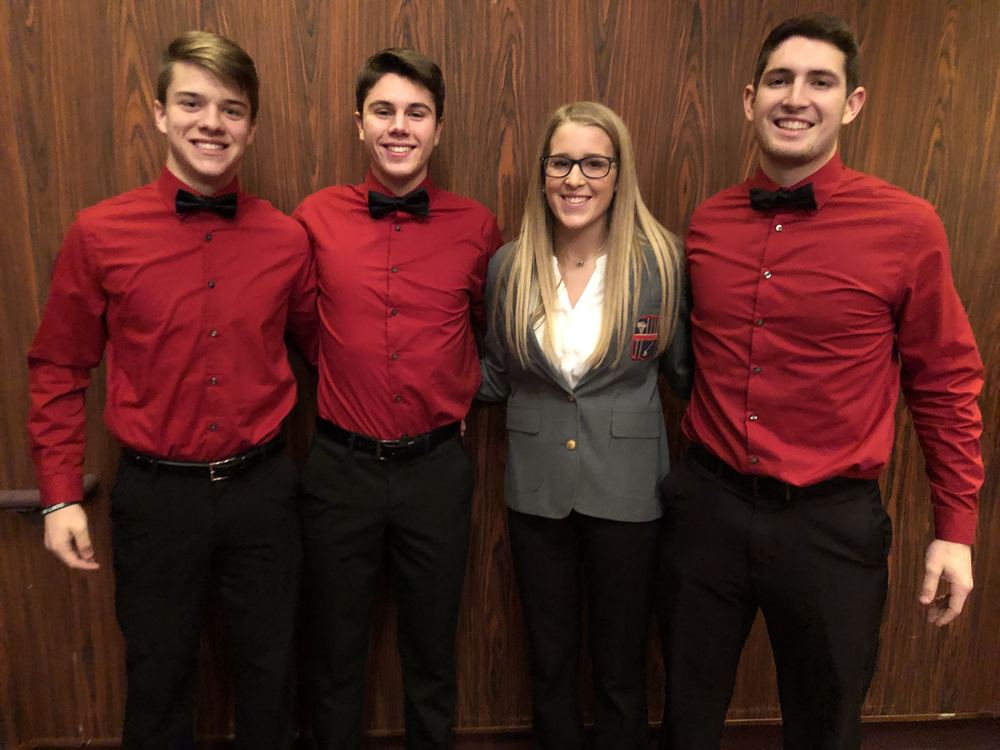 Students advance to state competition
Kelsey Webb
Monday, January 13, 2020
Forty-five students from Ohio Hi-Point Career Center's Media Arts and Business satellite programs at Riverside High School advanced to the Business Professionals of America (BPA) State Competition after competing at the regional level in January.
Over 100 members from the OHP/Riverside BPA chapter competed in the BPA Region 16 competition at Ohio Northern University in Ada, Ohio against students from Apollo Career Center, Benjamin Logan High School, Tri-Star Career Compact, Vantage Career Center, OHP Graham Satellite, and OHP Upper Scioto Valley Satellite.
The following OHP/Riverside students advanced to the Ohio BPA State Leadership Conference:
Kaitlyn Copas – Payroll Accounting
Chase Davidson, Kaylee Williams, and Zach Armbruster – Banking and Finance
Peytan Jenkins and Katelyn Craig – Financial Analyst Team
Rozlynn Estep, Malaina Jenkins, and Sasha Stotler – Economic Research Team
Owen Godwin, Andan Short, and Sierra Boone – Personal Financial Management
Allison Buchenroth – Intermediate Word Processing
Kyrsten Poe and Wade Auflick – Advanced Word Processing
Hanna Cooper – Legal Office Procedures
Riley Leeper – Medical Office Procedures
Bridget Littlejohn, Justin Ritzma, Lauren Johnson, and Harlie McClintick – Administrative Support Team
Rachel Knight – Administrative Support Research Project
Dora Bryant and Sam Fleming – Fundamental Desktop Publishing
Catalina Notestine and Deven Wray – Video Production Team
Trinity Notestine, Owen Holycross, and Mia Stallard – Broadcast News Production Team
Andrea Burden – Entrepreneurship
Sierra Snow, Kale Long, Ethan Jackson, and John Zumberger – Small Business Management Team
Rachel Taylor – Interview Skills
Jordyn Marshall – Advanced Interview Skills
Alaina Snow – Prepared Speech
Lauryn Sanford, Brody Rhoads, Courtney Roach, Cody Roach, Alli Knight, Grace Brownlee, and Kara Kauffman – Parliamentary Procedure Team
Xavier Clerico – Presentation Management Individual
Competitions, judging, and awards took place at ONU and OHP/Riverside chapter and Region 16 Executive board members Courtney Roach (Historian) and Sierra Snow (President) lead the awards ceremony.
The advancing students compete at the Ohio BPA State Leadership Conference on March 12 and 13 in Columbus. The OHP/Riverside BPA chapter is under the guidance of chapter advisors, Lindsay Wyan and Michelle Weadock.