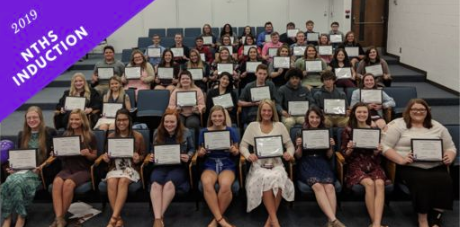 Ohio Hi-Point Career Center inducts school's largest NTHS class
Kelsey Webb
Friday, December 13, 2019
The Ohio Hi-Point Career Center inducted the school's largest class into the National Technical Honor Society (NTHS) this week, welcoming 54 students into the society.
To be inducted, students must meet the criteria of membership, which includes having at least a 3.5 GPA, meeting attendance requirements, and having the approval and recommendation of instructional staff.
NTHS is an organization devoted to the recognition of student achievement in career and technical education. Members of NTHS hold seven attributes: skill, honesty, service, responsibility, scholarship, citizenship and leadership.
"This is an outstanding group of men and women," commented Ryan Gilbert, advisor of NTHS, "They are leaders and remain involved in extracurricular activities and community service. I'm proud to be the advisor to such a well-rounded group of students."
"The amazing and talented people in this room have ideas that will change the world," continued Gilbert. "I'm optimistic about our future and feel lucky to work with such high caliber students."
After the induction ceremony, students and their parents and teachers celebrated during a lunch in the Sloan Inn catered by the Culinary Arts students.
The following students were inducted into NTHS:
Wyatt Auflick (Smart Technology Engineering), Riverside
Adrian Blanken (Cosmetology), Graham
Evan Botkin (Smart Technology Engineering), Urbana
Xienna Café (Welding), Riverside)
Madilynn Cantrell (Allied Health and Nursing), Marysville
Tony Christon Jr. (Smart Technology Engineering), Upper Scioto Valley
Kiarra Coats (Multimedia Marketing), Benjamin Logan
Naomi Cook (Cosmetology), Cavalry Christian
Summer Dow (Animal Science), Benjamin Logan
Cassandra Duran (Allied Health and Nursing), Marysville
Cortney Floyd (Cosmetology), Graham
Alexis Garver (Multimedia Marketing), Graham
Anna-Marie Harford (Allied Health and Nursing), Indian Lake
Kay Houser (Animal Science), Marysville
Hallie Johnson (Cosmetology), Graham
Maddy Johnson (Cosmetology), Urbana
Elizabeth Kerns (Animal Science), Indian Lake
Kaytlyn Kuhn (Cosmetology), Waynesfield-Goshen
Agatha Livingston (Animal Science), Marysville
Jewelyanna Livingston (Allied Health and Nursing), Marysville
Stephanie Marshall (Culinary Arts), Marysville
Britney Pond (Allied Health and Nursing), Indian Lake
Meghan Pooler (Cosmetology), Bellefontaine
Summer Smith (Welding), Marysville
Kayla Snyder (Allied Health and Nursing), Benjamin Logan
Charles White (Smart Technology Engineering), Urbana
Jeremy Cocca (Information Technology), Graham
Ally Collette (Biomedical Sciences), Graham
Rebecca Kaiser (Information Technology), Graham
Elise Kemp (Information Technology), Graham
Leila Smith (Biomedical Sciences), Graham
Ryan St. Myers (Information Technology), Graham
Cyrus Theodor (Biomedical Sciences), Graham
Meredith Bischoff (Agribusiness & Production Systems), Kenton
Elizabeth Heintz (Agribusiness & Production Systems), Kenton
Drew Hoppe (Agribusiness & Production Systems), Kenton
Elijah Manns (Agribusiness & Production Systems), Kenton
Lyndi Taylor (Agribusiness & Production Systems), Kenton
Garrett Thomas (Agribusiness & Production Systems), Kenton
Adrianna Wright (Agribusiness & Production Systems), Kenton
Cornelio Estrella (Engineering/Advanced Manufacturing), Marysville Early College High School
James James (Supply Chain Management), Marysville
Natasha Leiter (Supply Chain Management), Marysville
Tyler Smith (Supply Chain Management), Marysville
Kaitlyn Copas (Business), Riverside
Shelby Giles (Media Arts), Riverside
Bridgette Helmlinger (Media Arts), Riverside
Lauren Johnson (Business), Riverside
Leah Kelsey (Media Arts), Riverside
Andrea Liebhart (Business), Riverside
Kyrsten Poe (Business), Riverside
Natalie Wheeler (Media Arts), Riverside
Adrianna Whitaker (Business), Riverside