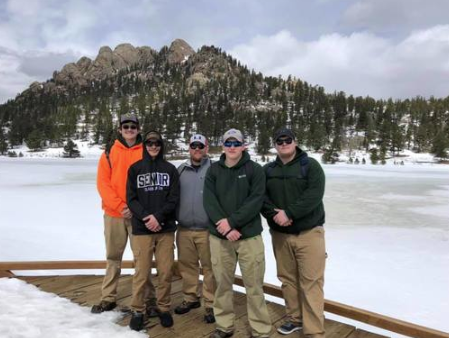 Outdoor Careers bring home two first place finishes from NCLC
Kelsey Webb
Friday, December 13, 2019
Students from Ohio Hi-Point's Outdoor Careers program had a strong showing (two first place awards and two top 50 awards) at the annual National Collegiate Landscape Competition (NCLC) held at the Colorado State University in Fort Collins, CO.
NCLC is an annual three-day powerhouse event organized by the National Association of Landscape Professionals (NALP) and supporting sponsors, bringing together the top landscape and horticulture students from two- and four-year colleges for a variety of competitive events. Ohio Hi-Point was one of only two career centers competing against schools like Ohio State ATI, Iowa State University, Michigan State University, Penn State, and Texas A&M.
Ohio Hi-Point's students have competed at NCLC for the past six years and are consistently ranked among the best as students demonstrate their skills in real-world, competitive events.
Outdoor Careers student Josh Mays (Graham) placed first in Mini Track Loader Operation and Tractor Loader Backhoe Operation out of 51 and 48 competitors, respectively. In addition, out of nearly 800 students competing at NCLC, Mays placed in the top 50 for his individual scores.
Daniel Long (Indian Lake) also placed in the top 50 for his individual scores. He and Quincy Hassell (Bellefontaine) competed in the Irrigation Assembly and placed 17 out of 49 teams.
Ohio Hi-Point's team consisting of Mays, Long, Hassell, and Bradley Osborn (Kenton) competed in several events including Compact Excavator Operation, Compact Track/Skid Steer Loader Operation, Construction Cost Estimating, Landscape Plant Installation, Maintenance Cost Estimating, and Truck & Trailer Operation.
In addition to competing, enjoying the great outdoors, and visiting the Denver Broncos Stadium at Mile High, the students networked with green industry leaders and companies – like STIHL, John Deere, Caterpillar, Gravely, Husqvarna, Bobcat, and Toro – during the industry's largest career fair.
The students are under the guidance of Outdoor Careers instructor, Cole Carpenter. Ohio Hi-Point's Outdoor Careers program is still accepting applications for the 2019-20 school year. Applications can be found at www.ohiohipoint.com/admissions.