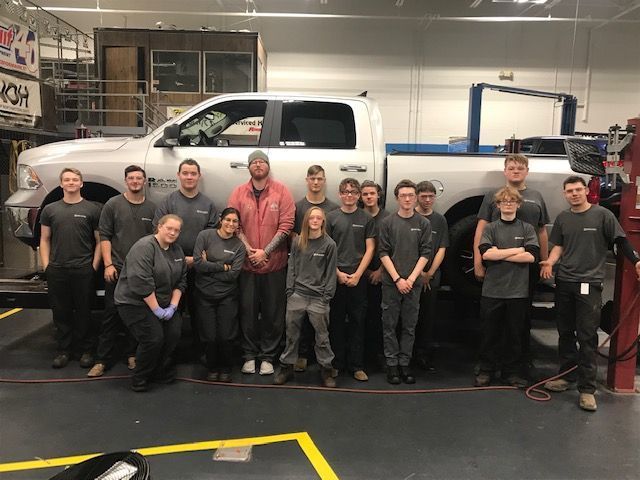 Ohio Hi-Point Honors Vets, 664th Speaks to Students
Kelsey Webb
Friday, December 13, 2019
On Veterans Day, Ohio Hi-Point Career Center paid tribute to the servicemen and women of the American Legion Post 173 and the 664th Aircraft Control and Warning Squadron.
Students in Ohio Hi-Point's Automotive Academy and Diesel Technology programs provided free oil changes to veterans while the Cosmetology students provided free salon services including manicures, pedicures, and haircuts. Veterans also received a free military button created by the Graphic and Media Arts students and were treated to a free lunch in the Sloan Inn prepared by the Culinary Arts students. At the end of the event, a handcrafted wooden American Flag built by the Structural Construction students was raffled off to a winning veteran.
During the school day, veterans from the 664th, who were stationed on OHP's campus from 1951-1969, spoke with OHP's social studies students about the former base, their service, and the importance of democracy. Students toured the 664th museum, which is found at the entrance of Ohio Hi-Point's campus, and learned about the artifacts and articles displayed within the school commemorating those once stationed at the highest point in Ohio.
After the base was phased out in 1969, Logan County educators established Ohio Hi-Point and opened its doors to students in 1974. Many of the original buildings remain and have been renovated to fit the needs of the career center.