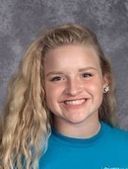 Adrian Blanken: December Student of the Month
Kelsey Webb
Friday, December 13, 2019
Why I chose Ohio Hi-Point: I chose Ohio Hi-Point because of the amazing financial opportunity it offered me in getting my regularly $25,000 cosmetology license for free. I was not thrilled at first to leave the comfort of my home school and purposely place myself in an unfamiliar area with unfamiliar and extremely different people. Although that was my attitude going into it, that quickly changed because I almost instantly felt at home with the passionate staff and student body at Ohio Hi-Point. We all chose to come there for different specific reasons with goals in mind, but ultimately we all came there because we wanted to. Going to school with an entire school that has a desire to be there because they are doing something they are passionate about it absolutely amazing and so inspiring.
I'm involved in the following OHP activities: As a junior I was apart of Student Council, Student Design Team, Skills USA, the Sloan letter reading, the interview contest, and various other cosmetology training, experience, and competitions. As a senior at Ohio Hi-Point I am enrolled in college credit plus Calculus, Anatomy and Physiology, English Composition II, and Creative Writing all through Clark State. I am also apart of the Student Delegates in which I assist with eighth grade tours, freshman showcase, sophomore experience days, sophomore recruitment, open house, fall dance, prom, fall and spring field day, and various other activities and fundraisers. I have continued with my involvement in Skills USA, as well as the many cosmetology related experience, training, and competitions.
My favorite part about Ohio Hi-Point is: I have multiple favorite things about Hi-Point:
1. Staff's Passion- I love how each and every staff member from administration to lab instructor to academic teacher to janitor to school nurse genuinely enjoy their job, do it to the best of their ability, and have each student's future in mind.
2. The School's Organization and Resources (Opportunities)- Hi-Point as a whole is extremely blessed with copious resources and connections. They have a spectacular system put in place that is a well-oiled machine. There is hardly ever a question someone can't answer or an issue that gets dismissed or unsolved. They do a great job taking advantage of absolutely every single opportunity that could possibly better the future of even just one student.
3. Student's Passion and Uniqueness- All the students that attend Hi-Point come from all different areas and are interested in all different programs which results in all extremely different types of people. One thing we all have in common though is our strong passion for the program we did pick and it is a beautiful thing working along side peers that took the same risk you did in order to do whatever they could to achieve their dreams. Some might feel threatened by this unique array of people and unfamiliarity, and I admit I did at first, but now I fully embrace it. I am so proud to have expanded my once small peer group of Graham kids in Champaign County to kids from all different schools in various counties in the surrounding area.
My most memorable moment at Ohio Hi-Point was: My most memorable moment at Ohio Hi-Point was the moment I realized I was good at this and I was going to succeed there in a lot of different things, and two when my mindset towards making friends finally changed and I met one of my very best friends, Ashlyn Hall. I slowly realized the first thing after being chosen for various honors such as the Sloan Letter Reading, the 1st Place Interview Competition Winner, the Government Student of the year, Student Council, Student Design Team, and winner of various other cosmetology competitions.
What surprised me most about Ohio Hi-Point was: What surprised me most about Hi-Point was honestly how much I ended up connecting with other students. I am not proud to admit that when I first came to Hi-Point I had this mind set that I was better than everyone else and that I would not be able to make any friends because everyone was so different. Quickly though, I was humbled and realized I was going to get nowhere in life if I was judgmental. Almost instantly, I began making so many friends. I was the only thing stopping me from being involved and making friends, not Hi-Point. As soon as my mindset changed I noticed how amazing each and every individual was and how valuable their perspective on things were as well. Now, I can apply that very vital skill to my everyday life when I graduate and continue my journey into the real world because you cannot go through life isolating yourself on this pedestal. Relationships are essential to succeeding in life.
The teacher who has had the biggest impact on me is: I think it is safe to say I have two teachers that had the biggest impact on me and that would obviously be my two lab instructors: Ms. Shellenberger, and Mrs. Harlan. The whole rest of Hi-Points staff is absolutely fabulous as well because I can tell they all genuinely want what is best for us students. Anyways, Ms. S and Mrs. Harlan have basically been like moms to me throughout my two years here at Hi-Point and have been there for me in every way shape and form. They are always doing above and beyond what is required of them, and doing everything in their power to help you succeed.
My advice to students who may be looking to apply to Ohio Hi-Point is: Do it! Do it! Do it! It is a once in a lifetime opportunity, and all I can do is brag about the copious opportunities available for you at this school. If you are a student who has passion, drive, initiative, and dedication it takes to ask the questions and put in the work to better your future then this is the place for you! Even if you are not completely sure about coming here, you can't go wrong when taking that risk, stepping out of your comfort zone, and just coming here! Hi-Point does a fabulous job preparing you for the future and connecting you to your passions and your dreams, and I say that with complete sincerity.
After graduation: After graduation and receiving my cosmetology license, I plan on attending Clark State Community College for two years in hopes of finishing up my gen eds, and then transferring to another school to finish the remainder of my next two years focusing on something like global business and Spanish. While I am doing that I'd like to work in a salon with the cosmetology license I earned at Ohio Hi-point in order to help me pay for college. I'd also like to foreign exchange in Spain while in college because I have a serious goal in becoming fully bilingual in Spanish. After college I am not exactly sure what I want to do with my degree, I just know I want to do something great, and I will always have my strong backup of cosmetology thanks to Hi-Point.
Please list any industry credentials and/or college credits you've earned: Tanning Certification, soon to be CPR certified, soon to be licensed cosmetologist, college credit English Composition I, Introduction to Literature, English Composition II, Creative writing, Calculus, and Anatomy and Physiology.