EDIT MAIN
Student Health
Student Health
Ohio Hi-Point Career Center wants every student to learn and be successful. School attendance and student health are directly related to your student's learning. However, there are times when your student may be ill and should stay at home until they are feeling better and no longer contagious to other students.
OHP has invested in a thermal temperature camera system which evaluates everyone that enters our high school building for potential fever. Students will pass by this camera upon arrival to school each morning and when going to lunch each day. If a student records a fever, the student will be taken to OHP's COVID-19 isolation room for further assessment and health check by the School Nurse.
Students and staff should practice frequent hand-washing for at least 20 seconds and avoid touching their mouth, nose, and eyes as the virus easily enters the body through these membranes. Hand sanitizer is placed throughout the buildings and touchless water fountains have been installed.
Please wear your mask to reduce the spread of germs.
Read a letter from School Nurse, Cindy Frost, BSN, RN
---

Student Helath and Masks
Taking off and putting on masks:
Please only remove and put on your mask by holding the ear loops. Adjust by the outside edges if necessary.
Avoid touching the outside of the mask as it is the most contaminated area.
When removing your mask, do not remove it over any surface. Lean forward slightly and remove in a downward direction toward the floor.
What to do with your mask when it is off
Students and staff should find a corner on their desk and place their mask there during each break or when taking a drink.
There are several options that you may pick from in this situation

Place the outside surface of the mask directly on the desk with the inner part facing upward and leave like that.
Place a clean paper towel over the top of the mask after laying it on the desk to protect it from contaminates.
Place the outside surface of the mask onto the desk and then fold it over once to sandwich the inner part of the mask, thus protecting it from contaminates
Mask Hygiene
You are encouraged to have five different masks, one for each day of the work week.
Please wash your mask daily to prevent illness.
You may wash your mask with your laundry, preferably in hot water. Hang to dry to preserve the mask.
---
Mask Exemptions
Ohio Hi-Point is requiring facial coverings for the health and safety of our students and staff. We hope this proactive measure will allow our students to attend on-campus classes for the entire school year.
The Governor's office released exemptions for students to wear face shields instead of masks during school hours. Please review the exemptions below. If you feel your student qualifies for an exemption, you must indicate the exemption your student qualifies for along with a parent note. Please send your documentation to our school nurse, Cindy Frost, BSN, RN, before your student's first day of school.
If you have any questions, please contact us at 937-599-3010.
Ohio Department of Health - Order on Facial Coverings & Exemptions
Ohio Department of Health - COVID-19 FAQs on Face Shields
---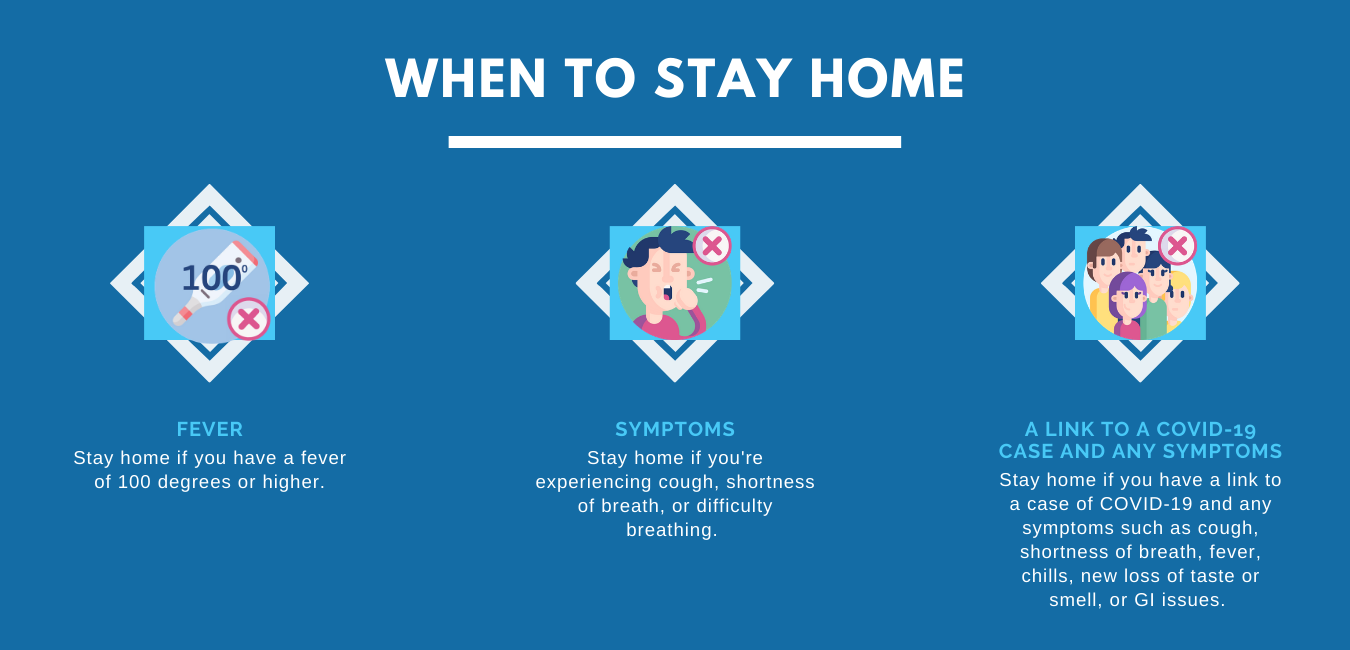 Student/staff Illness
Students and staff should following the guidelines below regarding illness:
A student/staff member with a fever over 100°F should stay home.
Any student/staff member that has the following symptoms of COVID-19 should stay home from school and see their primary care provider to be assessed for COVID-19:
Any of the following: cough, shortness of breath, or difficulty breathing
- OR -
Two of the following: fever (measured or subjective), chills, headache, sore throat, new loss of taste or smell, GI issues (nausea, vomiting or diarrhea)
- OR -
Link to a case of COVID-19 and any of the following symptoms: cough, shortness of breath, difficulty breathing, fever (measured or subjective), chills, rigors, myalgia, headache, sore throat, new loss of taste or smell, GI issues (nausea, vomiting or diarrhea).
You can also review this overview for screening students for symptoms of COVID-19 along with the limitations and considerations.
If you are calling the school to report anything related to COVID-19, including but not limited to a student absence, quarantine, isolation, exposure, pending test, or positive result, please dial extension 1347 to speak to our school nurse.
---
Communication When a Student/Staff Member Has Been Diagnosed With COVID-19
If a student or staff member has been diagnosed with COVID-19, OHP will inform the county health department and partner school district. Communication will be developed by the county health department, not the school district. A common template will be developed to include the following:
Specify to parents which classroom(s) the confirmed case was in (ex. Mr. Smith)
More generalized statement to building staff
OHP will cooperate with the health department's work in social tracing.
A 14-day quarantine will be required of any student who tests positive with COVID-19.
A 14-day quarantine will be required of any staff member who is determined to have had "exposure" as determined and documented by the county health department.
The LCHD will write a letter for OHP to use and the letter will explain/define what is considered "exposure" to COVID-19 that will result in quarantine.
---
Student Health Issues That Are NOT Diagnosed as COVID-19
Ohio Hi-Point will follow the protocol below for health issues not diagnosed as COVID-19:
A student sent home with a fever must stay home until they are fever free without medication for 72 hours (three full days) AND improvement of all other symptoms (if any) for 72 hours, or a documented negative COVID-19 test.
To return to school, the student must be transported to school by the parent or guardian and must be checked by the school nurse before resuming school transportation. This can be done at the student's partner school district.
The student's temperature will be taken upon return to OHP.
Any other illnesses or injuries that are not related to fever should be handled in the routine manner according to district policy.
---
The following are Ohio Department of Health Guidelines for some of the more common childhood illnesses and the recommendations of the School Nurse. Your medical provider should be contacted for diagnosis and treatment.
Common Cold: Symptoms include irritated/sore throat, watery eyes, runny or stuffy nose, sneezing, fever, chills, cough, generalized discomfort. Your student should remain at home only if symptoms will interfere with their ability to learn. It is recommend to seek medical care for fever, green/yellow eye drainage or symptoms lasting greater than 7-10 days.
Fever: If your student's temperature is 100 degrees Fahrenheit or greater (or 1 or 2 degrees above the child's normal temperature) s/he should remain home until s/he has been fever free for 48 hours, without the use of fever reducing medication. Remember, fever is a symptom indicating the presence of illness. Students with a fever should not be sent to school after being given a fever reducing medication.
Vomiting and/or Diarrhea Due to Intestinal Virus: Diarrhea is defined as 3 or more loose stools in 24 hour period.Students with diarrhea may have additional symptoms of nausea/vomiting/stomachache/headache/body aches/and/or fever. Your student should be without vomiting, diarrhea, or fever for 24 hours (without the use of fever reducing medication) before returning to school.
Influenza: Symptoms are abrupt onset of fever, chills, headache, sore muscles. Runny nose, sore throat and cough are also common. Your student should remain home from school until symptoms diminish and your student has been fever free for 48 hours, without the use of fever reducing medication.
Head Lice: Lice are small wingless insects that lay eggs called nits. Nits attached firmly to the hair shaft near the scalp. Symptoms are itching/irritation to the scalp and may feel like something is moving in their hair. They are small white specks that are commonly seen behind the ears and along the hairline. Following a lice infestation, your student can return to school after treatment with a pediculicide shampoo, nits removed and being cleared by the school nurse.
Pink-eye (Conjunctivitis): Redness or swelling of the "white(s) of the eye(s), or inside the eyelid, discharge from the eye(s), itchy or scratchy, crusting of the eyelid(s) or eyelashes. Your student is not be at school with purulent (pus) drainage from the eye(s). Your student can return to school after 24 hours of an effective antibiotic and drainage from the eye(s) has stopped.
Strep Throat: Symptoms of strep throat include fever, red throat with pus spots, tender and swollen lymph nodes (glands). Symptoms do vary for strep throat. Your stent can return to school after 24 hours of an effective antibiotic and fever free for 24 hours without taking a fever reducing medication.
STOP THE SPREAD OF GERMS
OHP encourages all students, staff, and community members to do these simple steps to ensure we're meeting health and safety protocols:
Avoid contact with people who are sick
Avoid touching your eyes, nose and mouth with unwashed hands
Wash hands often with soap & water for at least 20 seconds. If you do not have soap or water on hand, use an alcohol-based hand sanitizer with at least 60% alcohol content
Cover your cough or sneeze with a tissue and throw tissue in trash can
Clean and disinfectant frequently touched surfaces and objects
Wear cloth masks when out in public when social distancing is not easily done
Continue to practice social distancing of 6 feet in public areas
Wash Your Hands Poster and Video from Vox
---
MENTAL HEALTH
During this time of uncertainty, we encourage you to stay connected with friends and family while practicing physical distancing. It's important that we support one another during this time, especially if you or someone you know may be facing a mental health concern.
Please check out the following resources for mental health.