EDIT MAIN
PARENTS
---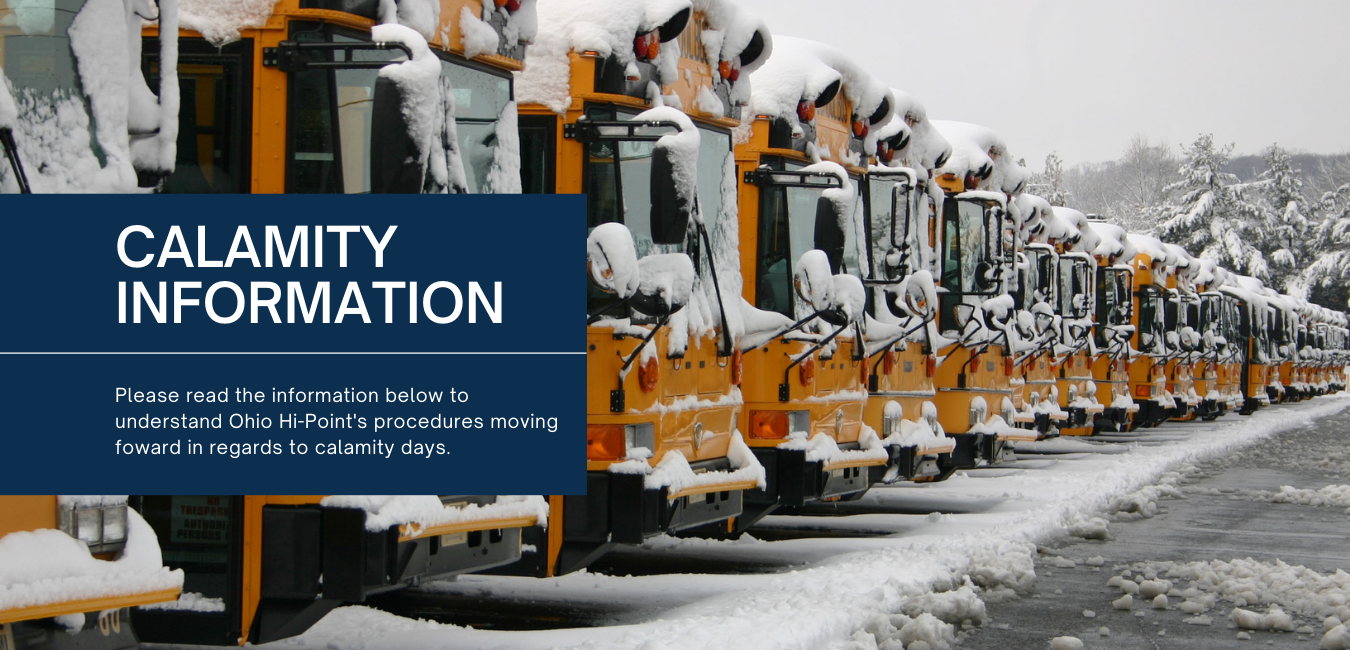 Please read Ohio Hi-Point's information about calamity days and the expectations of students for attendance and instruction.
---
We have been working diligently with our local health departments, our staff, and our 14 partner districts to create the most proactive and consistent educational plan for our students. For the 2020-21 school year, Ohio Hi-Point will implement a Flexible Learning Plan.
You can read more about the plan here: https://www.ohiohipoint.com/o/hi-point/page/welcome-back
---
Student health and wellness
Ohio Hi-Point Career Center wants your student to learn and be successful. School attendance is linked to learning. However, there are times when your student may be ill and should stay at home until he/she feels better or is no longer contagious to others. Below are some guidelines to help you determine when your student should stay home.
Please read this letter from School Nurse, Cindy Frost, BSN, RN about OHP's procedures for student illness. You can also view our Student Health and Wellness webpage for more details.
---
Non-COVID-19 related illness: When should my student stay home:
Temperature above 100° by mouth (fever free for 24 hours without taking fever reducing medications before return to school)
Vomiting or diarrhea (symptom free for 24 hours before returning to school)
Shortness of breath or wheezing during normal activity
Cough that interrupts normal activity
Pain from earache, sore throat, or recent injury
Yellow or green drainage from eye(s)
Rash or draining sores
Ohio Department of Health (ODH)
---
Stay Connected With Us and Your Student
We are here to provide your student with the best possible career-technical education so that each individual can reach their highest potential. From technology and career planning resources to frequently used forms, we've collected the most popular resources for your use.
Helpful Links
---
EMERGENCY COMMUNICATION GUIDELINES FOR PARENTS AND GUARDIANS
The safety and security of our students and staff are top priorities for Ohio Hi-Point Career Center. The district has a comprehensive crisis plan and district administrators work closely with local emergency responders and law enforcement to monitor and update plans on a regular basis.
In addition, the district has well-established security measures to ensure the wellbeing of students and staff. These include: visitor check-in procedures, locked doors after the start of the school day, and surveillance cameras.
View Emergency Communication Guidelines
---
Parent Advisory Board
Interested in being part of a parent group with the largest amount of direct impact on your student's education? Join the Parent Advisory Board.
Call us at 937.599.3010 x 1201 or email communications@ohiohipoint.com to inquire about the board and the activities parents are a part of throughout the school year.
---
Resources & Additional information
Resources
Support hotlines and resources are listed below for students.
General Crisis Support by Text
Crisis Text Line: Text SUPPORT to 741-741. Trained counselors can discuss anything that's on your mind. It's free, confidential, and available 24/7.
Depression and Suicide
The Trevor Project: Call 866-488-7386. You can live chat with the Trevor Project 24/7 (except Fridays from 4-5 p.m. EST)
Dating Abuse and Domestic Violence
loveisrespect: You can call 1-866-331-9474 anytime (24/7) or chat online with loveisrespect any day of the day from 5 p.m. to 3 a.m. EST or text loveis to 22522.
National Domestic Violence Hotline: Call 1-800-799-7233 or email the National Domestic Violence Hotline. Both options are available 24/7.
RAINN: Rape, Abuse and Incest National Network: Call 1-800-656-4673 or live chat with RAINN. Both options are available 24/7.
Runaways, Homeless, and At-Risk Youth
National Runaway Safeline: Call 1-800-786-2929. The safeline is available 24/7. Or live chat with the safeline 7 days a week from 4:30-11:30 p.m. CST.
Home Free: Family reunification program provides free bus tickets to eligible runaway and homeless youth.
Additional websites:
---
Anti-Bullying Efforts
Anti-Bullying Efforts
Ohio Hi-Point Career Center is committed to providing a safe learning environment for all students and that means ensuring that every student can attend school without the fear of harassment. Bullying can happen during or after school hours. While most reported bullying incidents happen at school, a large percentage of bullying happens while going to and from school, on the bus, and even in your neighborhood.
Types of bullying:
Physical bullying - actual harm to another individual's body such as hitting, kicking or punching
Verbal bullying - threats, teasing, and/or name calling
Social or Relational bullying - gossip, rumors and intentionally leaving someone out of interactions
Cyberbullying - repeatedly threatening, defaming, teasing or ridiculing another individual by sending harmful, threatening text or instant messages, for example, or posting derogatory comments or photos on Facebook and other social media platforms
Do you believe you have been bullied? Below are steps students can take to get help:
Let an adult know right away! This can be your teacher, counselor or parent.
Send an email to: compliance@ohiohipoint.com
---
Incidents
January 2020-June 2020
Verified reports of bullying/harassment: 1