EDIT MAIN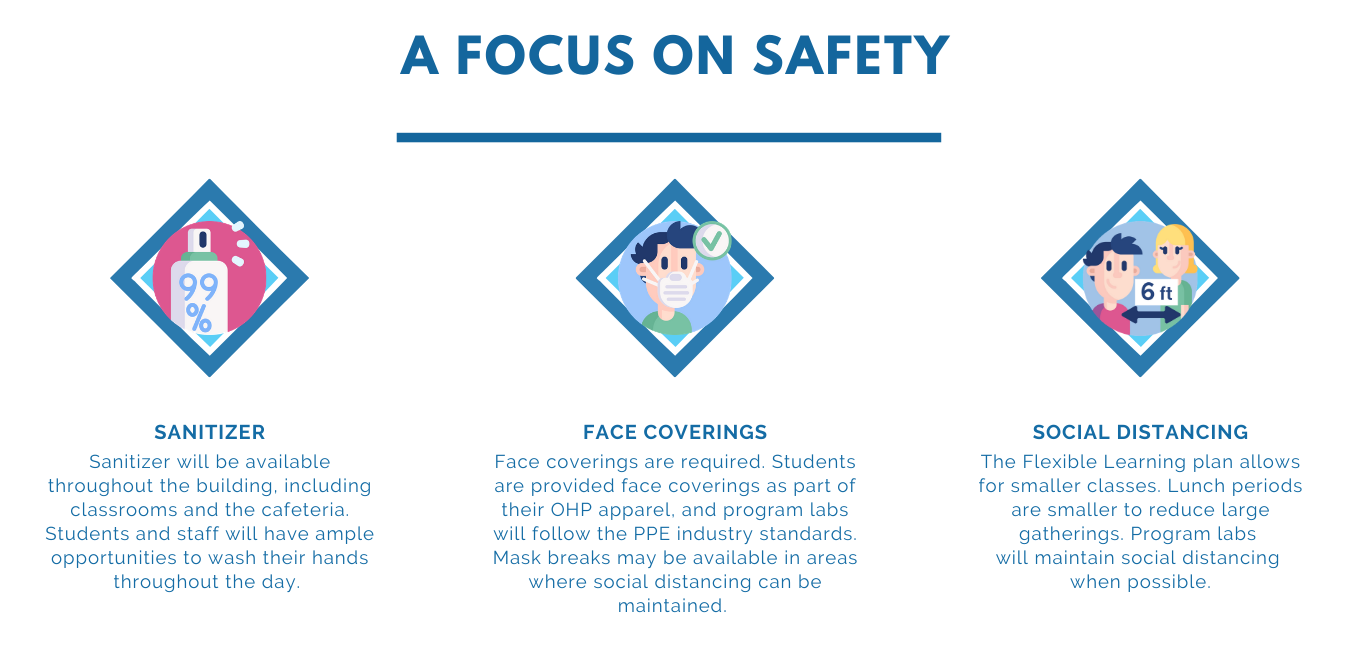 Health & Safety Protocols
Ohio Hi-Point is focused on providing a safe environment for our students and staff. The following policies and procedures were established with local and state organizations.
Hand sanitizer is placed throughout the buildings and touchless water fountains have been installed.
Students and staff should practice frequent hand-washing for at least 20 seconds and avoid touching their mouth, nose and eyes since the virus easily enters the body through these membranes.
Face coverings are required for everyone. All staff and students are provided washable masks by OHP. If an individual chooses to wear their own mask, it should at minimum be cloth or fabric that covers the nose, mouth and chin. The regular cleaning and rotation of those coverings are the responsibility of each individual. Mask breaks will be created throughout the day in classrooms or labs that can maintain social distancing requirements. Face shields and medical waivers are available upon request.
OHP's Flexible Learning Plan allows for social distancing and smaller classes. We ask students and staff to adhere to social distancing guidelines.
Classroom Occupancy
OHP will inform parents that safety protocols are in place but any student who attends school will incur some level of risk of infection. OHP will decrease the likelihood of infection with hygiene, cleaning, and safety procedures, but being in a public place has a certain level of risk that cannot be eliminated.
Classroom occupancy will be determined based on each individual circumstance with the maximum amount of safety considerations possible.
Physical distancing of three to six feet will be adhered to whenever possible. If less than six feet is available, masks will be required.
Seating charts will be recommended to assist the local health department with contact tracing
---
Food Service
OHP will offer food services for students and staff. Logistics will be in compliance with the LCHD based on:
Students will wash or sanitize their hands prior to and after breakfast and lunch.
Limited capacity/occupancy of the school cafeteria
No self-service
Individual condiments
Assigned seating to assist the local health department with contact tracing.
---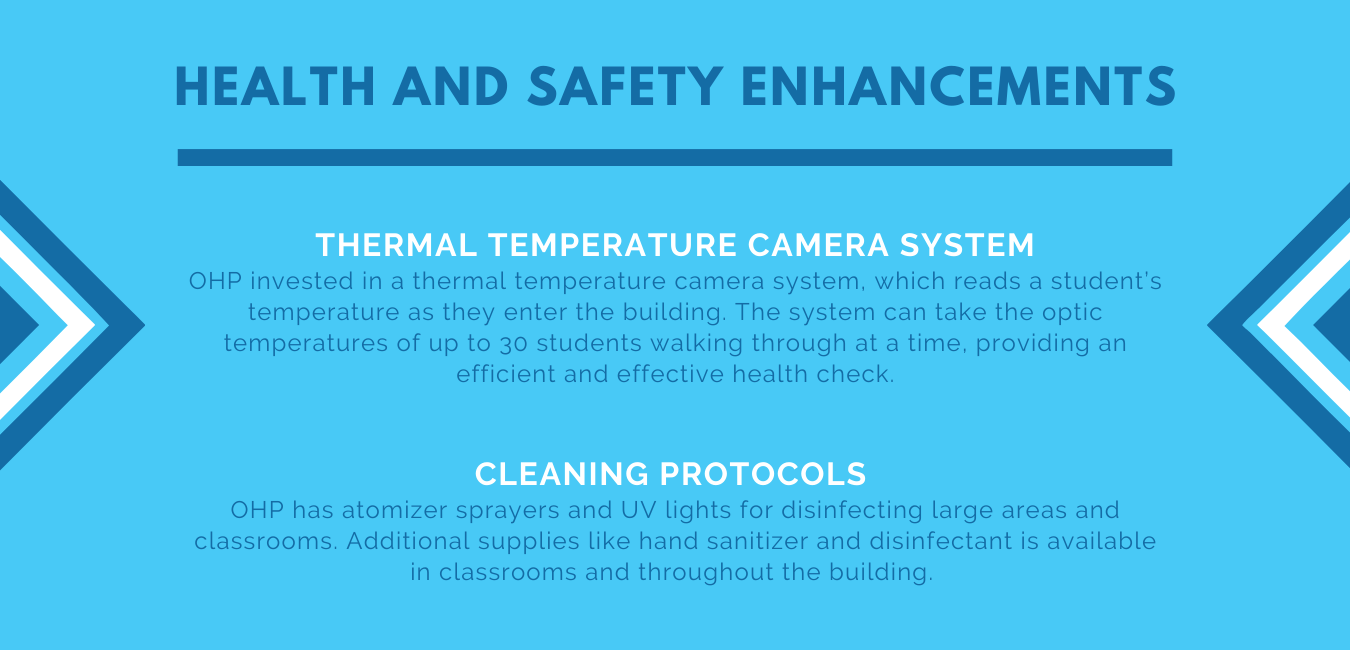 CAMPUS HEALTH AND SAFETY ENHANCEMENTS
In addition to these safety measures, OHP has taken the additional steps to:
Invest in a thermal temperature camera system, which evaluates everyone that enters our high school building for potential fever. Students will pass by this camera upon arrival to school each morning and when going to lunch each day.
Utilize atomizer sprayers and UV lights for cleaning large areas and classrooms and has established a regular sanitation schedule for our buildings.
We will also have assigned seats in areas like classrooms and the cafeteria to minimize any possible exposure to a large group.
---
Visitors and Volunteers
There are different levels of school visitors and OHP will make decisions for each situation.
Visitors are generally discouraged from being in OHP facilities (this excludes higher education, military recruiters, special speakers and any others given required access by statute).
Safety protocols such as taking temperatures and a symptom checklist will be implemented for all visitors.
All visitors will be required to wear a face covering while in the building.
---
Study Trips
Study trips are discouraged but will be evaluated on a case-by-case basis dependent upon the curriculum requirement of the program.