EDIT MAIN
FACILITIES
---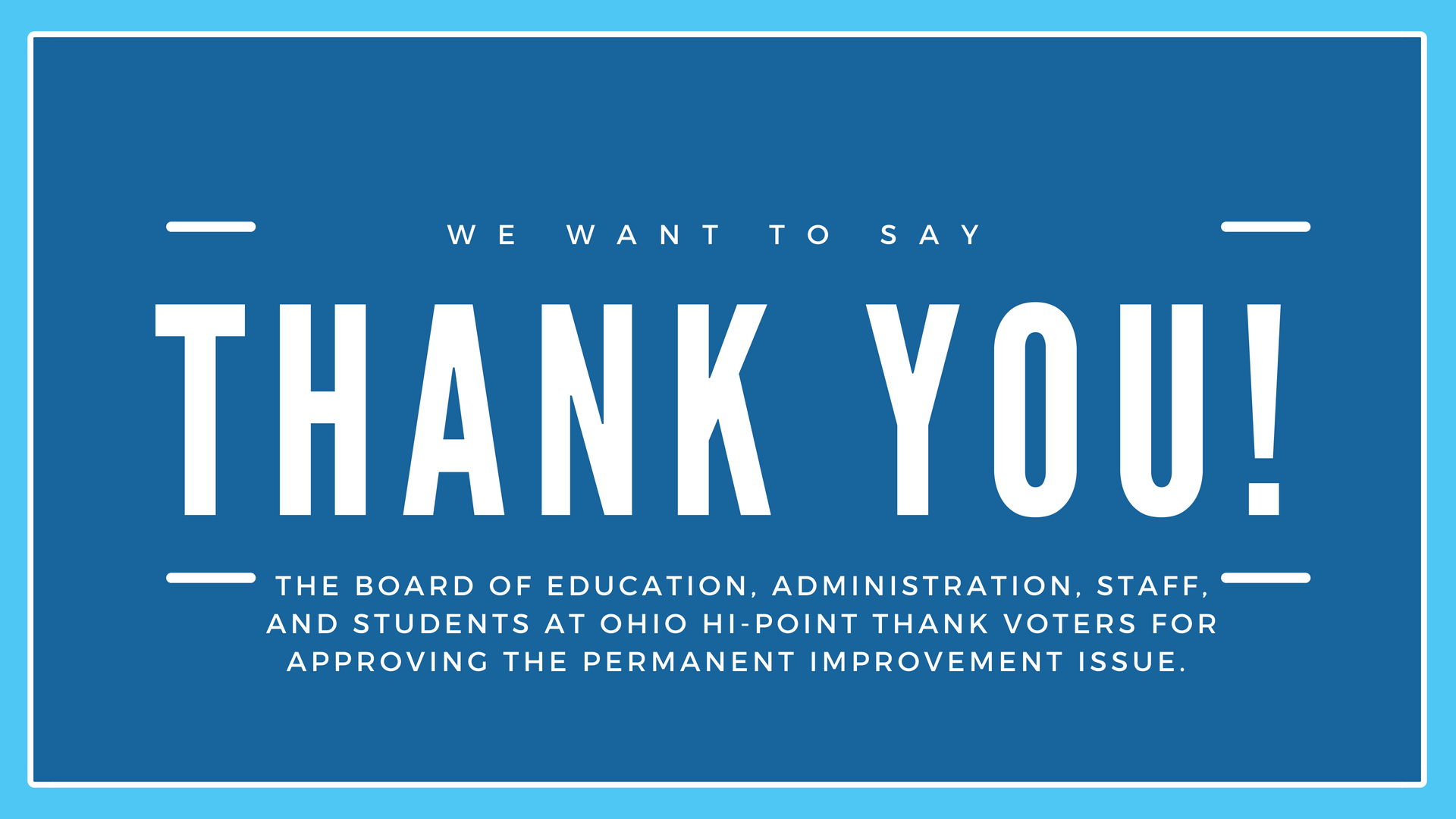 PERMANENT IMPROVEMENT ISSUE APPROVED
On May 8, 2018, voters approved Ohio Hi-Point's 0.6-mill permanent improvement levy. The issue was passed after a collective vote was counted from all 14 partner high school districts in the five counties Ohio Hi-Point serves.
The Board of Education, administration, staff, and students at Ohio Hi-Point want to thank voters for approving the permanent improvement issue. "This means we will be able to renovate and expand the learning spaces on our Bellefontaine Main Campus as well as update equipment, technology, and tools in our satellite programs," said Superintendent Rick Smith, Ed.D. "I also want to thank the many volunteers that helped get information out to our communities about this important issue."
Ohio Hi-Point provides students the opportunity to receive professional certifications and specialized credentials needed for the 21st century workforce as well as earn college credit for Ohio Hi-Point coursework, making higher education more affordable for today's families.
"This issue was about offering a 21st century education for 21st century jobs," noted Smith. "I'm excited that voters understood the value we provide to prepare students for in-demand jobs in our communities."
AT A GLANCE
What: 0.6-mill permanent improvement continuous
When was the vote: May 8, 2018
Cost to taxpayers: $1.84 a month, or $22 a year, per $100,000 of a home's assessed market value
Why: To renovate and expand the Bellefontaine Main Campus and provide additional equipment, technology, and tools within the district's satellite programs
Permanent improvement issue history
On November 15, 2017, the Ohio Hi-Point Career Center Board of Education voted unanimously to place a 0.6-mill permanent improvement issue on the May 8, 2018 ballot. During the December 13, 2017 meeting, in the second of two votes required by legal process, the Board unanimously accepted the certificate of the county auditor and approved a resolution declaring intent to proceed with the permanent improvement issue to renovate the career center's 43-year old building to provide students advanced technical training for 21st century jobs.
The issue, which is the first time in 40 years the district has placed an issue on the ballot, will cost taxpayers $1.84 a month, or $22 a year, per $100,000 of a home's assessed market value.
The permanent improvement issue is needed to offer enhanced lab-learning classes in fields that have local jobs to be filled, such as healthcare and skilled manufacturing, as well as create new learning spaces so additional training can be offered. The issue is also needed to make repairs and improvements to prolong the use of the existing building.
The Board has been discussing a plan to meet the demand for skilled workers in emerging jobs throughout the district's communities and adjust and adapt to the ever-changing technology needs for the past few years. Students who attend Ohio Hi-Point can receive professional certifications needed for the modern-day workforce, and earn college credit for completed coursework.
The district is responsible with taxpayer resources and in the district's day-to-day operations. In the last 20 years, the career center has lived within its means while growing by more than 3,500 students.
"We know how important it is ensuring every student has a plan, whether for employment or continuing education. Preparing today's students for tomorrow's successes through advanced technical and skills training will continue to help grow our own local economy," said superintendent Dr. Rick Smith. "This permanent improvement issue will provide funds for renovations on the Bellefontaine Main Campus and increase technology, tools, and equipment within the district's satellite programs needed for today's modern-day workforce," stated Smith.
Financial Overview
Over the course of more than 40 years, the district has managed growth, made building improvements, and expanded services to students on the Bellefontaine Main Campus and through the district's satellite programs all without asking residents for an additional operating tax levy.
The district – while earning the Auditor of State Award four times within the past six years – has also been recognized by the Ohio Senate for "exemplary financial reporting" during three of the past six audits. In the past 15 years, Ohio Hi-Point has grown to serve more than 4,000 students at 12 different locations including the Bellefontaine Campus. During that time, OHP has never received less than an unqualified audit opinion.
"It is important to us that the public can trust the district to act responsibly with our resources," explained Treasurer Eric Adelsberger. "We understand what it means to live within our means and we have expanded opportunities for students by being very considerate and purposeful as it relates to how and why we spend our operating funds."
You can read more about OHP's finances by clicking here
---
Frequently Asked Questions
When will the money be collected?
The tax increase will not take place until January of 2019.
Where will my tax money be used?
Funds from the permanent improvement levy will go towards renovations on the Bellefontaine Main Campus as well as additional technology, equipment, and tools within the district's satellite programs.
How long will it take to renovate the Bellefontaine Main Campus?
After a year of tax collection, the district plans to go out for bids for renovations beginning in 2020. The entire renovation project on the Bellefontaine Main Campus is expected to take no more than five years.
---
FACILITIES UPDATE
Read more about what the District is doing to prepare and implement the renovations on the Bellefontaine Main Campus and within our satellite programs. Each update is broken out by month.
September
In September, construction design teams were established to research, plan, and contribute to the renovations and updates on the Bellefontaine Main Campus and within our satellite programs.
Currently, the core construction design team (consisting of the superintendent, administration, and architects), and the construction design team (consisting of staff, students, and community members) meet bi-weekly to discuss ideas, plans, and timelines.
The construction design team is also planning to visit several recently renovated schools to glean ideas and learn best practices.
October
In October, the Ohio Hi-Point staff took their Fall professional development (PD) day on the road and, in groups, visited several career centers around the state. Staff members looked at and discussed building structure and design elements that would allow them to engage students in a 21st century education.
The groups visited Great Oaks, Miami Valley CTC, Upper Valley Career Center, Apollo Career Center, Eastland-Fairfield Career Center, Mill Stream Career Center, and Wayne County Career Center. Key takeaways from the visits included:
Some form of security - School Resource Officer (SRO), security guard
Lots of natural light
Plenty of storage
Large seating areas and a variety of workspaces that are easy to clean
Privacy for nurse's station or sensitive conversations
Clear classroom and office space within the program labs
Positive messaging and signage
Wide hallways
The PD committee presented to the OHP Board of Education during the October board meeting. To view the presentation, please click the below button.
In addition to the staff taking visits to different career centers, the construction design team also visited schools closer to home that recently underwent renovations to glean ideas and best practices.
These schools included: Ridgemont High School, Marysville Early College High School, and Emerald Campus Dublin. Key takeaways included:
Lots of natural light
Plenty of storage
Think through what is "cool" vs what is "functional"
Create collaborative and interactive learning spaces
November
In November, the construction design teams continued to meet and discuss.
Superintendent Dr. Rick Smith met with all staff members to give an update in the process, encouraging staff to view a video that focused on untraditional learning spaces and the crucial need to reinvent how learning happens in the classrooms.
Dr. Smith also established the student design team and had the group's first meeting.
The construction design team decided to have a focus group with all staff members in the near future to help guide building design to be in line with the district's educational philosophy.
December
In December, the construction design team visited Reynoldsburg City Schools and Thompson Library at The Ohio State University to gain construction ideas.
The staff design committee also selected various educational design books to read and study in groups. The books offered were: The Third Teacher, The Language of School Design, Blueprint for Tomorrow, The Space: A Guide for Educators.
January
The staff design team pulled all the photos taken from the tour visits and created an Idea Wall that is in a prominent location for all staff members to see and discuss.
The Board of Education met for a special work session on January 12, 2019 devoted to identifying and discussing Ohio Hi-Point's guiding principles to be used while working through building design concepts. The principles revolve around Ohio Hi-Point's mission to provide quality career and academic education and valuing the relationships with our educational, business, and community partners. The BOE members had an opportunity to view all the photos on the Idea Wall and select what they believed would enhance the educational atmosphere at OHP.
An update from the construction design team included a revised timeline. Due to financing, the construction design team is now on a timeline to get drawings for the Board of Education to vote upon by the end of July.
February
The staff design team began meeting with the architects to discuss educational philosophy, exterior and interior design elements and functions as well as safety and security functions.
Dr. Smith shared the guiding principles discussion the Board of Education had at the January work session with high school staff members during the monthly staff meeting.
He also met with the student design team. The students shared feedback on the guiding principles as well as began identifying things they liked and didn't like in the pictures on the Idea Wall.
---
LEARN MORE
See and hear the frequent stories of students earning industry certifications and college credit for their coursework. You'll also learn about our dedicated staff and the strong partnerships between education and industry. Renovations and expansion on the Bellefontaine Main Campus as well as additional technology, tools, and equipment within our satellite programs will help continue to provide students a 21st century education for 21st century jobs.