EDIT MAIN
Good food is necessary for a healthy body and mind, that's why we focus on healthy options for all students and try to offer convenient options for all.
Use PayForIt to manage your online meal account.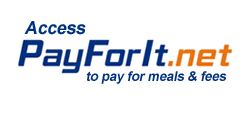 With PayForIt, you can:
Set up an account
Deposit money at your convenience
Set reminders
Set recurring payments
Check your balance
View activity reports
You will need a valid email address, credit card, and your student ID number to set up your PayForIt account.
You can view the daily lunch menus on our app by searching "Ohio Hi-Point Career Center" in the Apple Store or on Google Play and downloading the app for free.
Download for Android: http://bit.ly/2RiRCw5
Download for iPhone: https://apple.co/2TvrqRA
Lunch Menus:
Students will have a various hot meals available each day. Breakfast costs $1.60 and lunch costs $2.85. Additional options are listed below.
Additional options for breakfast Include:
Assorted breakfast bars, muffins
Assorted fresh fruits and fruit cups
Grab-n-Go Lunches include:
Assorted Chef Salads
Various Sub Meals
Additional sides can include:
Veggie bags with carrots and tomatoes
Assorted sandwiches
Cottage cheese and yogurt
Assorted side salads
Selection of fruit juice
(Grab-and-Go Lunches count as a full meal with milk)