EDIT MAIN
Our mission is to develop our most valuable resource – people – by providing quality career-technical and academic education.
Connecting Your Passions to your Dreams.
It's more than a tagline.
It's an important reminder that conscious career planning takes time and effort to yield the 'dream come true moment.
Our dedicated staff wants to connect students to their passions and dreams, and our mission statement is a the roadmap for how we make that connection: by providing quality career-technical and academic education for our students and customers.
Ohio Hi-Point's Values:
Our students/clients are our first priority
Every individual has value and significance
We expect excellence in all we do
Students and staff are accountable for their own behavior and personal development
Effective learning actively engages students
Top of Ohio WebCam
The Top of Ohio webcam is made possible through the Highpointers Foundation and Highpointers Club.
Ohio Hi-Point Career Center is a career-technical school district serving 14 partner schools in five counties.
Ohio Hi-Point is a school of choice for students to gain a hands-on education in a specific career path. The Bellefontaine Main Campus serves juniors and seniors in high school while the district's satellite programs, which bring career programming directly to students in their home schools, serve seventh through 12th grade students at 11 out of the district's 14 partner schools.
Students who attend Ohio Hi-Point have additional opportunities to prepare themselves for careers or higher education before graduation. Students receive professional certifications and specialized credentials needed for 21st century careers as well as earn college credit for Ohio Hi-Point coursework, making higher education more affordable for today's families.
Bellefontaine Main Campus Programs
Partner Schools
Continuing Education for Adult Students
In a constantly evolving world there's always something new to learn. OHP provides short-term and online classes for adult learners as well as the following educational opportunities.
Business Resource Center

To support the businesses within Ohio Hi-Point's five-county district (and far beyond), Ohio Hi-Point established the Business Resource Center to provide cost-effective and convenient customized business trainings for companies. The benefits of employee training and development include a company-wide work efficiency, opportunities for innovation and fresh ideas, and reduced employee turnover.

Clark State Classes, Ohio Hi-Point Campus

In 2012, Ohio Hi-Point's Adult Education division partnered with Clark State Community College to have a full-service location at the Ohio Hi-Point Bellefontaine Main Campus. Logan County students can apply, take placement tests, meet with an advisor, request financial aid, and register for classes without traveling to Springfield. Many courses are also available online, providing students easy access to higher education.
Our History
Before Ohio Hi-Point existed, the campus was home to the 664th Aircraft Control and Warning Squadron of the United States Air Force.
Established in 1951 during the Cold War, the radar facility monitored the skies at the highest point in Ohio as part of the nation's Air Defense Forces. After the base was phased out in 1969, Logan County educators established Ohio Hi-Point JVS and opened its doors to students in 1974 after voters approved a levy, offering six programs to students.
Rich in history, you will find artifacts, photos, and articles displayed in the school paying homage to the servicemen and women of the 664th A.C.&W. Squadron.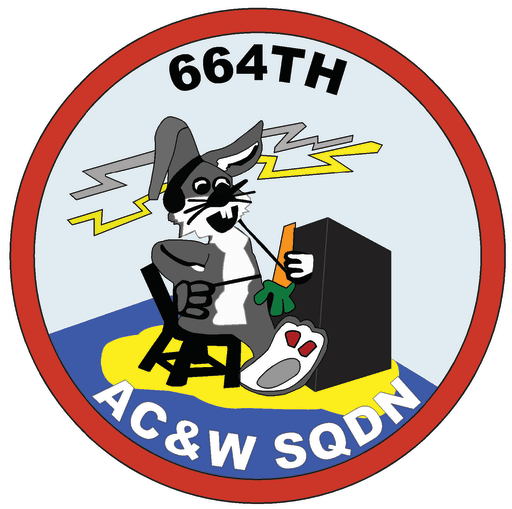 Many of the original buildings remain and have been renovated to fit the needs of the career center; however, a $1.9 million addition to the main building in early 1995 brought more classroom space and a state-of-the-art technology center. Later that same year, the school's name was changed from Ohio Hi-Point JVS to Ohio Hi-Point Career Center. The purpose of the change was to give a clearer meaning of opportunities for young people and adults still pursuing an education with a career goal in mind.
In 2018, voters approved a permanent improvement levy which will help create new learning spaces, provide students more opportunities to study in labs that offer advanced technical training needed for the in-demand careers of today, and make repairs and improvements to enhance safety and prolong the use of the existing buildings on the Bellefontaine Main Campus.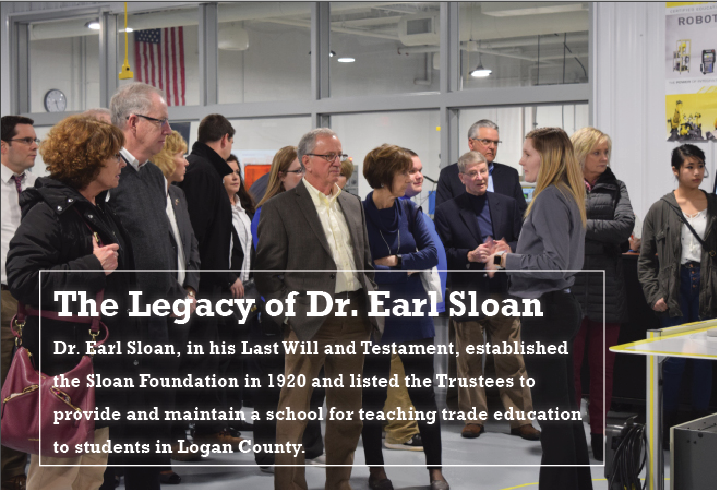 Setting the Standard for Advanced Technology
The Sloan Foundation is a vital supporter of Ohio Hi-Point and has pushed the career center to the front lines of advanced technology; providing robots, programming, medical equipment, digital technology, and much more to students who enroll in Ohio Hi-Point programs.
Dr. Earl Sloan understood the value of learning a career skill when he began an apprenticeship at the age of 15. He helped run a business with his brother selling liniment, a remedy for pain relief. By 1896, Dr. Sloan dedicated himself to the business that reached a volume of $30,000 annually (which would be almost one million dollars in today's market).
After establishing the Sloan Foundation in 1920, funds from the trust were first used in 1948 at the Sloan Industrial School at Bellefontaine High School. In 1975, Ohio Hi-Point began the strong partnership that continues today with the Sloan Trustees.
The lasting effect of the Sloan Foundation can be seen throughout campus – in the Sloan Inn restaurant, the new state-of-the-art Dr. Sloan Smart Technology Center, and within our program labs and classrooms. Each year, staff and students host the trustees for a special event to thank the foundation and celebrate Dr. Sloan's legacy.