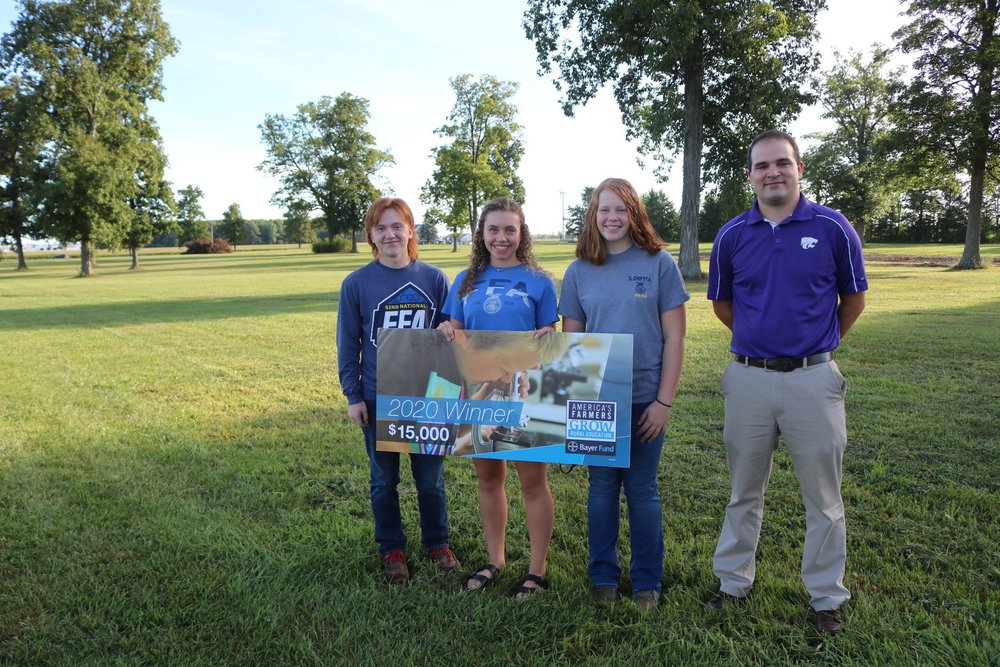 FFA Chapter Awarded $15,000 Bayer Fund Grant
Kelsey Webb
Tuesday, September 22, 2020
The Ohio-Hi Point Indian Lake High School FFA Chapter is the recipient of a $15,000 America's Farmers Grow Rural Education Grant from the Bayer Fund.
The FFA Chapter is part of the Ohio Hi-Point Agribusiness and Production Systems satellite program at Indian Lake High School.
The grant money will be used to create a pasture space on Indian Lake's campus for students to raise larger animals. "We have had so much success in the past few years with our chicken and turkey projects, we decided to go even bigger," said Tanner Schoen, the Ag instructor and FFA chapter advisor. "This award will allow us to fence off a pasture and start the process of raising livestock, such as lambs or steers."
The pasture area will be located on three acres near the chicken hutch and Indian Lake Maintenance Building.
In the past few years, the OHP-ILHS FFA Chapter has received several grants and community support to construct a chicken hutch at Indian Lake. The chickens raised won top awards at the Logan County Fair and were then donated to the local food banks to feed area families. Students also raised turkey poults last year and sold half of the birds for Thanksgiving and donated the remaining half to feed local families.
Schoen says while some of our agriculture students come from family farms, many other students who are interested in raising livestock do not. He believes this pasture project will expand opportunities for those students.
"We will be able to raise these animals right on campus and carefully watch their development for their entire lifespan. In addition, students will learn about pasture management, animal nutrition, and more."
America's Farmers, sponsored by Bayer Fund, is focused on strengthening rural America through three community outreach programs that partner with farmers to make an impact in communities where farmers live and work. The programs have given more than $57 million to rural America since 2010 and include: Grow Communities, Grow Rural Education and Grow Ag Leaders.
To learn more about the three programs visit AmericasFarmers.com. The Bayer Fund is a nonprofit organization dedicated to strengthening the communities where Bayer customers and employees live and work by providing funding for food and nutrition, education and community development projects.